Leucoagaricus leucothites
previously called: Lepiota naucina
Also called: Leucoagricus naucina

Found 11/16/15 near Kruse Way shopping center
A specimen posted on What_is_this_mushroom is also shown below

Charateristics:
Cap is white
Cap is somewhat "lumpy" not smooth
Gills are Free
White spore print
Ring
Note ring has a dark brown margin
Stipe larger at bottom, but no vulva




Here are links to additional info
---

Here are pictures posted on
What is this mushroom
by Mark and Melody
11/15/15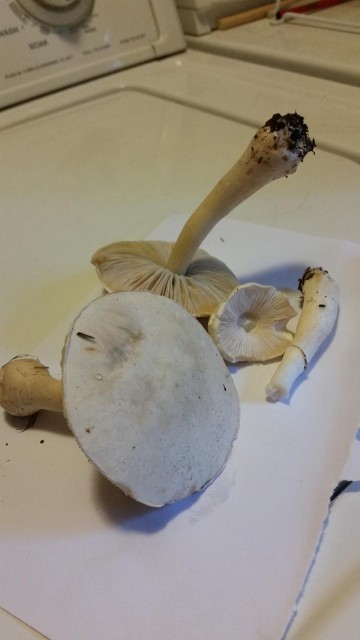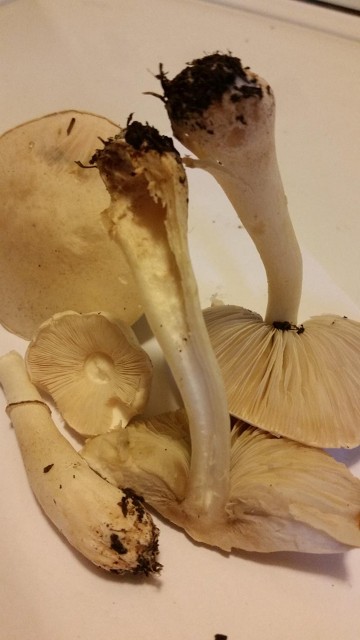 Mark and Melody said

The pic where the stems have not been split has the truer color. It's very white with a faint brush of tan in the middle of the cap. The younger specimen has white gills but it turns to light brown as it matures. The gills are free and the younger stipe has a ring. But no ring on the older ones. No volva but has a bulbous lower end of the stipe. Hollow stipe.
Leah said:
it's not a Tricholoma. From the Mushroom Expert page on Tricholoma: "Tricholoma is a fairly large genus of mycorrhizal gilled mushrooms with white spore prints, fleshy stems, and gills that are attached to the stem, often by means of a slight "notch."
Sava said:
Leucoagaricus leucothites is the current name.
The dark color that we see on the ring is not necessarily from deposited spores.

Let's stick to indisputable strong characters:
presence of a ring, free gills and white or light-colored spores
(dark spores would color the gills in mushrooms as mature as these).

Kit Scates chart (or any other top-level key to gilled mushrooms) would say Lepiota. And indeed, this mushroom used to be called a Lepiota,
but this genus has been split into several genera using microscopic criteria.

The naming business aside, this bald-capped "Lepiota" growing in grass is common
(even edible) and worth learning.

Finally, back to what Elmer's astute observation:
one of veil descriptions of this mushroom in Matchmaker says
"underside brown near margin". But it's not a primary characteristic,
Click on a thumbnail to enlarge
1.

2.

3.

4.

5.

6.

7.

8.

9.

10.

11.

12.

13.

14.

15.

16.

17.

18.

19.

20.

21.

22.

23.
---