Elmer Galbi


A view of China, Russia and South Africa
that tourist do not see

Only for Use by our Discussion Group
Do not copy or distribute
Do not use information given here to make investment decisions













A view of China, Russia and South Africa
that tourist do not see

1) A very high level look at the economies of different countries

2) A relatively high level comparison of a number of companies

3) Details about some selected companies

Feel free to leave at anytime you become bored
I will stop talking when everybody leaves
-- Page one --



We will be talking about
companies that are internet related

Some preliminary comments

Japan: the country with the highest spent per app download,
Korea: has the world's fastest mobile internet speeds, and
China: the planet's largest smart phone market

The Point: The internet is big outside the US

Chinese companies invested 2.7 billion to fund Asian Financial Web sites
Paytm mobil payment system in India has 225 million users in India.
With Paytm you can save money -- the money you have shows as gold Bars

Apple Pay and Android Pay not making much of an inroad in Asia because few have Debit cards








Note: The following numbers are for illustration and discussion only
I have not check the accuracy, the consistency of time periods, currency conversions ratios,etc



--- Page 2 ---

Note: The following numbers are for illustration and discussion only
I have not check the accuracy, the consistency of time periods, currency conversions ratios,etc



--- Page 3 ---



We need talk about the accuracy of the numbers available on foreign companies

1) First, How does one separate "Fake News" from "Real News"
and "fake numbers" from "real numbers"
-----Common sense test -- Multiple sources --


2) How accurate are the numbers that are available on US companies
3) I believe the numbers available on Chinese companies are reasonably accurate,

BUT
4) Maybe there are "Enrons" and "Bernie Madoffs" in the bunch

For Example -- click to see story about ZTO IPO
--- Page 4 ---
Tencent (TCEHY)
Tencent is more than ten years old

Tencent is the main social network site in China.
It's a gaming company.
It's a bank.
A VC fund.
A video streaming service.
A movie production company.
A TV sports channel.
An advertisement broker.
A cloud services provider.
A cashless payments solution.
AND Literally hundreds of other stakes and subsidiaries.
Example: It owns 5.0% of Tesla


--- Page 5 ---
Some of the Tencent subsidiaries
From CB Insights's see www.cbinsights.com
--- Page 6 ---
Key products
-- Messaging App WeChat
-- online Gaming
-- "Honor of Kings" 50 million daily users
-- On line payment - Weixin - 600 million monthly users
-- has mini-programs that can be downloaded to user phone to do "things"
-- ObEN - uses artificial intelligence-powered tools to create avatars that look and sound real
A growing international presence
For example: In India: Hike is the main messaging app
Tencent just invested 175 million in Hike

Total Revenue in 2016 -- 21.9 billion dollars
Net profit in 2016 -- 5.9 billion dollars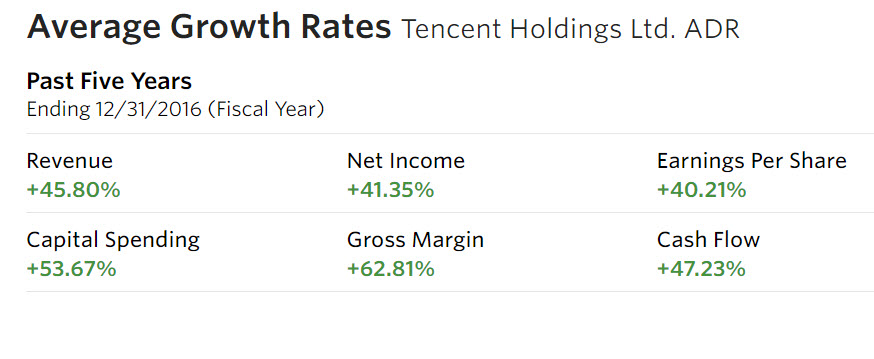 Institutional Ownership

--- Page 7 ---
---
---
---
Alibaba (BABA)
Launched in 1999, Jack Ma was the founder
Leading platform for global wholesale trade.
Serves millions of buyers and suppliers around the world.

Mission --- make it easy to do business anywhere.
Buyers located in 190+ countries
Buyers and sellers exchange hundreds of thousands of messages each day.

Alibaba generates its revenues from fees it charges for use of its platform,
rather than the markups it charges from selling products like most retailers.

This fee-based business model give Alibaba far higher gross margins than Amazon.
Alibaba's gross margin over the past 12 months stands at 62%, versus 35% for Amazon.
Market Cap $384.28 B
Sales 23.34B
Profit Margin 48.9%
PE Ratio 44
Employees 50,097
Percent Mgmt Owns 12.5%

--- Page 9 ---
Their VISION
"We aim to build the future infrastructure of commerce. We envision that our customers will meet, work and live at Alibaba, and that we will be a company that lasts at least 102 years."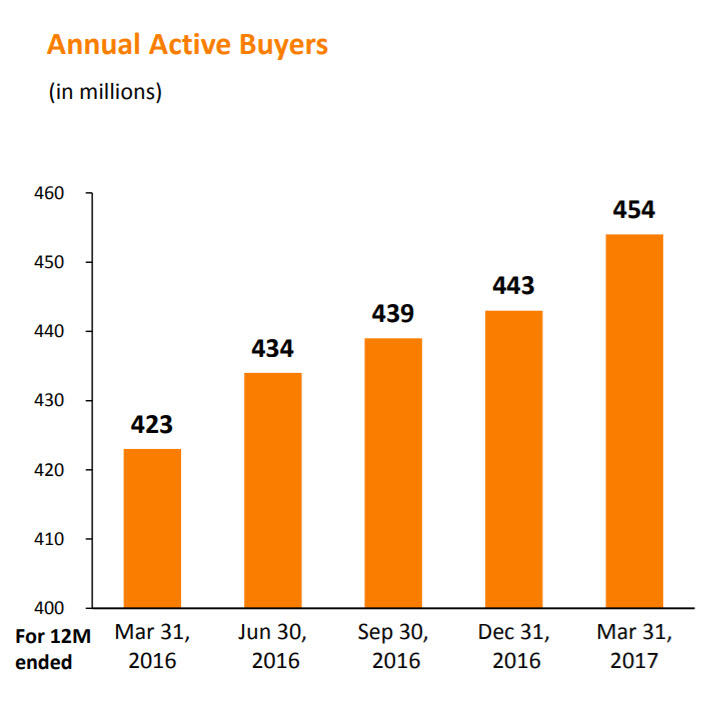 From wall Street Journal 9/14/2017
Alibaba Money Fund
Yue Bao - Left Over Treasure
Largest Money Fund in the World

370 Million Accounts
211 Billion Dollars in the Fund
Assets Doubled in past year

J P Morgan's Money Fund is the biggest in the US
Half the size of Yue Boa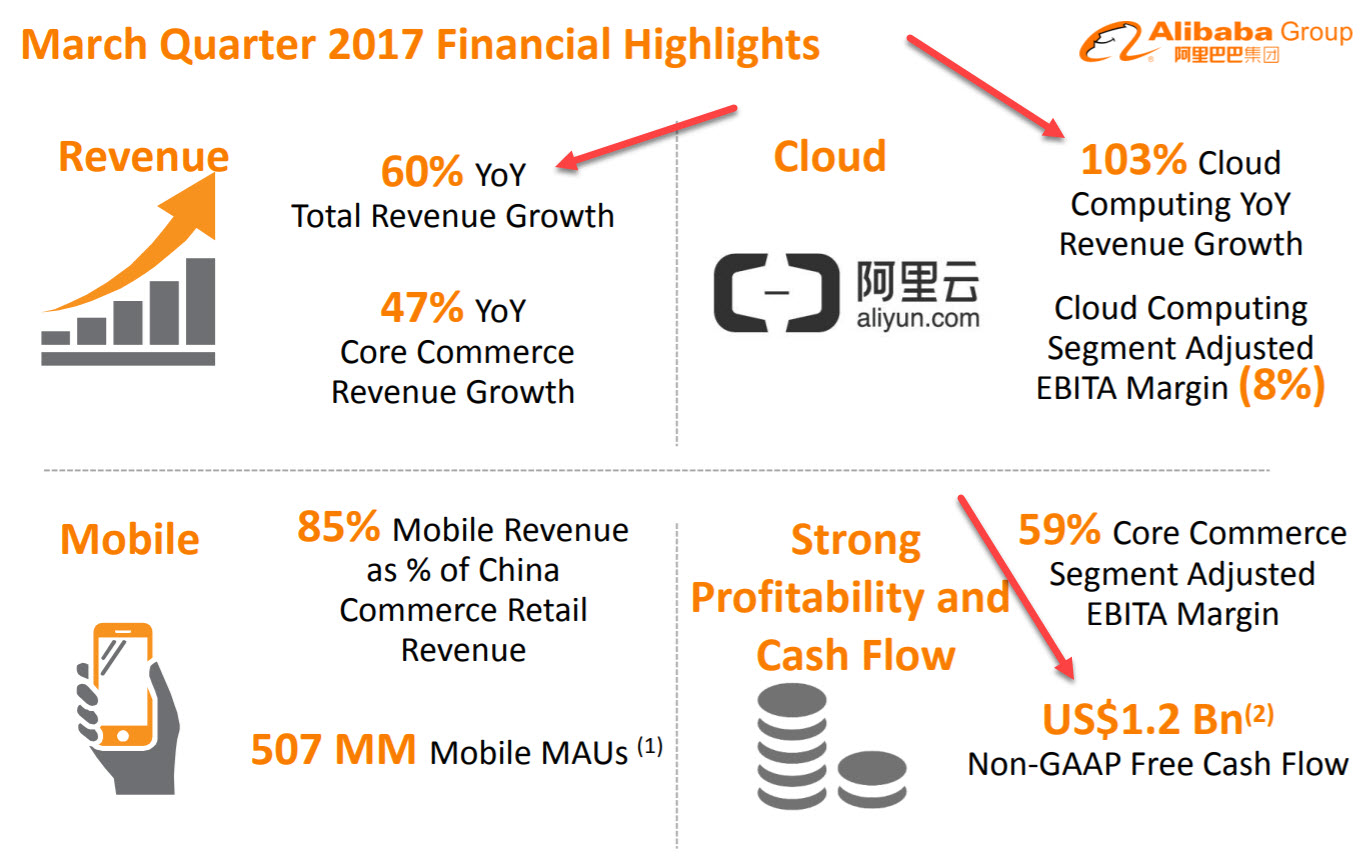 --- Page 10 ---
Expanding Outside of China

Lazada is the number one online shopping & selling destination in Southeast Asia
Present in Indonesia, Malaysia, the Philippines, Singapore, Thailand and Vietnam.

Lazada has more than 100,000 local and international sellers as well as 2,500 brands

Alibaba will invest approximately 1 billion (USD)
to increase its stake in Lazada Group, 51% to approximately 83%.
--- Page 11 ---



Investing in "new Retail" Brick and mortar stores
Brick-and-mortar stores - still make up over 80 percent of total retail sales in China.

Alibaba combining big data, artificial intelligence and logistics for Brink-and-mortar stores

"New Retail" integrates data and payment tools for offline partners,
Order using phone

Has invested upwards of $9.3 billion in brick-and-mortar stores

Has launched un-staffed concept shops, including grocery and coffee stores.
--- Page 12 ---
Alibaba and Tencent have some interlocking subsidiaries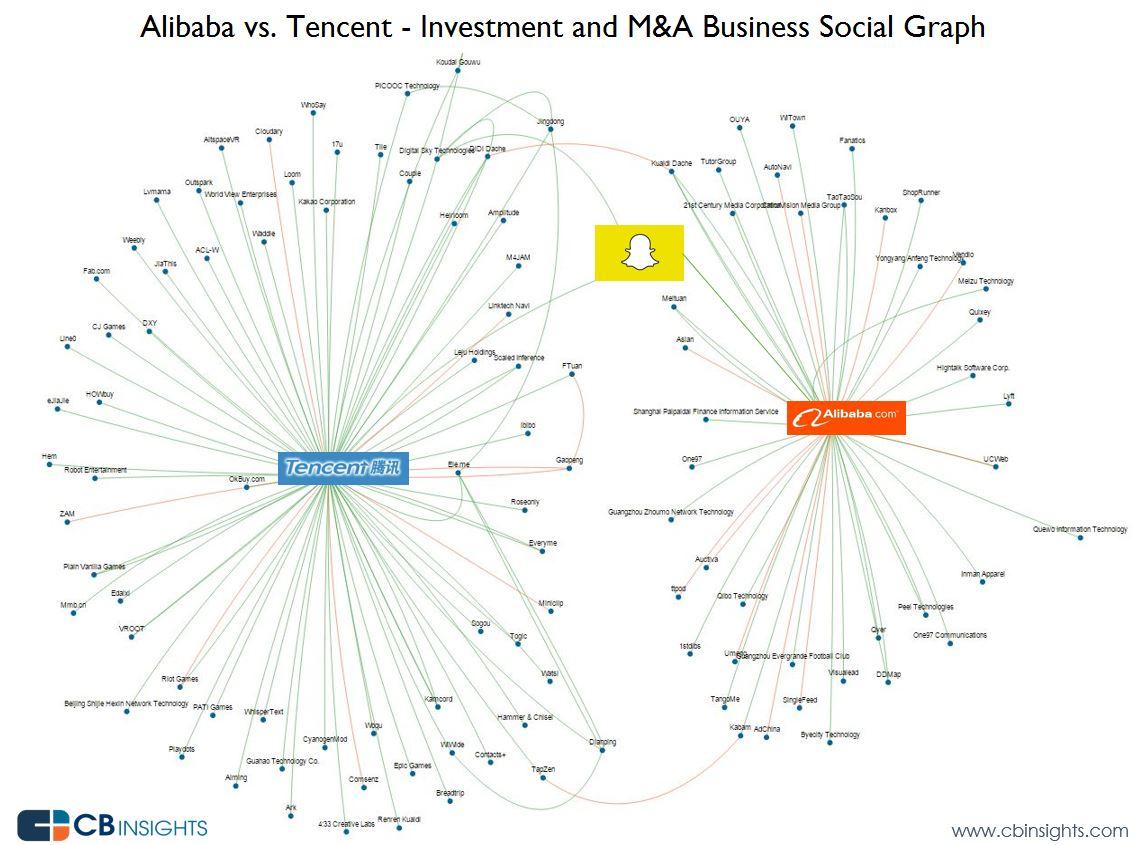 Note the Snapchat symbol
This is the first instance where both Tencent and Alibaba
have directly invested in the same company
-- It seems to me the issue here is Facebook ---
--- Page 14 ---

---
---
---
Other Chinese Companies (there are hundreds)
SOHU Sohu.Com
Somewhat like Google: an online media, search and game service company, which provides online services on personal computers and mobile devices . The search and search-related business primarily offers advertisers pay-for-click services, as well as online marketing services.
Click for a quote
Weibo WB
Weibo is the Chinese version of Twitter Inc (TWTR),
In Q1 Weibo's monthly user base exceeded that of Twitter for the first time.
Furthermore, While Twitter's base plateaued in its second quarter,
Weibo added another 21 million users in Q2.

Weibo stock is valued at about $19 billion
Valuation is above Twitter's ~$12 billion valuation.

Weibo is larger, more profitable and faster-growing than Twitter

Click for a quote

Click to see their code of company conduct

Click to Go to Company Web site


GSH Guangshen Railway Co
GSH is a railroad company. The Company provides integrated services in relation to railway facilities and technology, commercial trading and other industrial businesses. It also operates with other railway companies in the People's Republic of China for the provision of freight transportation services. Click for a quote
BIDU Baidu Inc (ADR)
Baidu, Inc. is a Chinese language Internet search provider. The Company offers a Chinese language search platform. In addition to serving individual Internet search users, the Company provides a platform for businesses to reach customers. Click for a quote
CHA China Telecom Corp (ADR)
China Telecom Corporation provides telecommunications and related businesses. The Company provides wireline and mobile telecommunications services, Internet access services, information services and other value-added telecommunications services. The Company mainly operates its business in the Chinese domestic market. Click Here for a quote
JD JD.com ADR
JD.com, Inc. is an online direct sales company.

The Company sells electronics and home appliance products and general merchandise products (including audio, video products and books).

The products are sourced from manufacturers, distributors and publishers in China.

It also offers an online marketplace that enables third-party sellers to sell their products to customers on the Company's Website. The Company also offers online and in-person payment options and customer services.

The Company operates approximately 210 warehouses with an aggregate gross floor area of approximately four million square meters in over 50 cities. click for a quote
JRJC China Finance Online (ADR)
China Finance Online Co. is a Web-based financial services company.

The Company provides Chinese retail investors with online access to securities and commodities trading services, wealth management products, securities investment advisory services, as well as financial database and analytics services to institutional customers.

The Company has three segments: commodities brokerage services, online financial information and advisory service. Click for a quote
TAL TAL Education Group ADR
TAL Education Group provides after-school tutoring programs for primary and secondary school students in China.

The Company's small classes course consists of approximately four semesters, which include approximately two school semesters in Spring and Fall, and approximately two holiday semesters in summer and winter.

It operates a Website, www.jzb.com, which is an online education platform. It offers personalized premium services and online courses.The Company offers online courses on mathematics, English, Chinese, physics, chemistry, biology and other subjects.

The Company has over 10 call centers in Beijing, Shanghai, Tianjin, Guangzhou and Shenzhen. Click for a quote
---


There are also very very large private Chinese companies

For Example HNA Group
A 53 Billion dollar Chinese Comglomerate
Ranks 170 on Fortune's Global 500 rankings
HNA owns many US and European Companies
They own:
Carlson Hotels - owner of Radisson and Park Plaza hotels
Hilton Worldwide Holdings
Biggest shareholder in Deutsche Bank
Gategroup - worldwide airline catering
Swissport - worldwide aireline servicing
Avolon Holdings aircraft leasing - third largest aircraft leasing company
Realestate: 245 Park Ave in Midtown Manhattan

Ingram Micro - worlds largest technology distributor
Before this purchase Ingram only had 3% of chinese market
Since purchase business has surged

Eight golf courses in Washington State

200 Million stake in SkyBrigdge Capital - previously owned by Anthony Scaramucci

HNA airline is China's fourth largest airline
HNA also owns a stake in 16 other airlines from Bazil to South Africa

Twenty percent of shares of HNA are owned by a Charitable Foundation in China
Company's vision:
Be a Buddhist-style practitioner of
compassion, wisdom and altruism





---
---
Gazprom -- Russia
Gazprom was formerly the Soviet ministry of gas
In 1989 Soviet Ministry of Gas was privatized an re-organized as a corporation
The government owns 50% of the stock and controls the company.
Putin, personally, is said to own 4.5% of the stock.

Gazprom owns all its main gas processing facilities in Russia.
It operates Russia's high pressure gas pipelines
It has a legal export monopoly.

The company has subsidiaries in industrial sectors including finance, media and aviation

Sales 92.8 billion
Cash flow 1.04 Billion
Dividend yield 5.53%
Shares trade on Russian exchange -- 17% of entire trading volume

Number of employees - 462,400
Number of shareholders - 479,000
Shareholders are a political force in maintaining the dividend.

The "Power of Siberia" gas pipeline,
the first to connect Russia and China,
will start pumping in December 2019,

A second pipeline to China across the
border between Mongolia and Kazakhstan,
supplied from fields in western Siberia.
Click Here for Gazprom website
Click Here to go to company website Re; UK Gas supplier
---
---
Let's now look at Africa
There are some very big companies in Africa
For example lets look at the South African company
Naspers NPSND
Naspers is a broad-based multinational internet and media group,
It operates in more than 130 countries.
Naspers principal operations are in Internet communication
classified, online shopping, marketplaces, online payments ,
video entertainment and print media.

Market capitalization of over $66 billion
it is the largest company in Africa and
the 7th largest Internet company in the world.

Naspers was foundered in 1915
Has a long history in Print Media

Nasper generates approximately 72.7% of its revenues in South Africa
Has significant operations in Sub-Saharan Africa, Greece, Cyprus,
the Netherlands, the United States, Thailand, Brazil, Poland, Russia, India and China.

Naspers primary business is to create media content,
build brand names around it, and deliver its content
through a variety of channels, including television, internet services, newspapers, magazines and books.

Naspers owns 34% of Tencent



Some of the other companies Naspers owns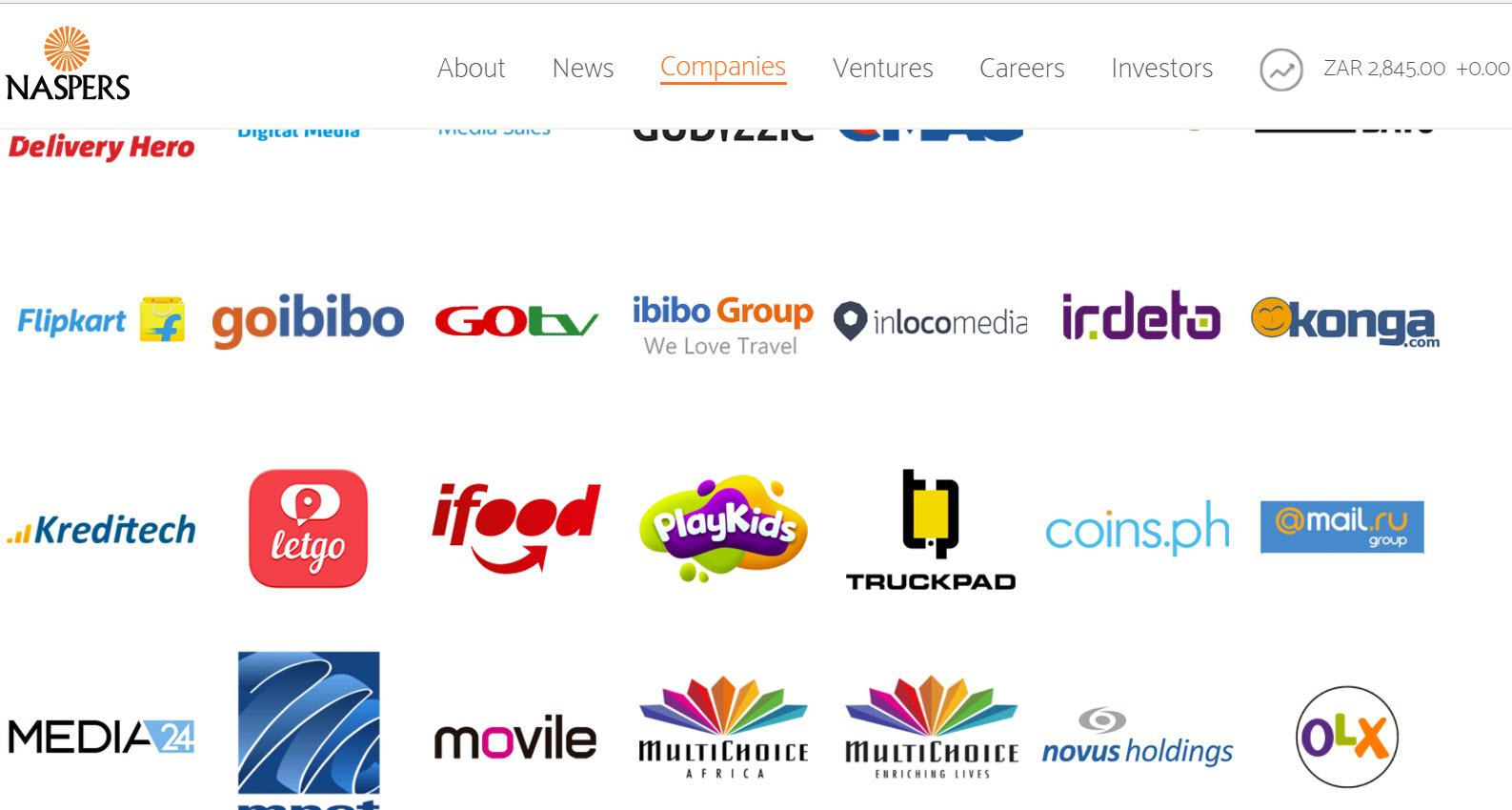 Market Cap: 66 Billion
Employees: 25,000
Net Profit Margin: 46%

Naspers skyscraper in Cape Town, South Africa.
tallest building in South Africa

The net: There are lots of big companies arount the world
that are Internet centric

My guess -- if the world holds together --
Some of these companies will grow to be even bigger