A Five and a half mile hike
---- Saddle Mountain ----
Thursday, June 19, 2014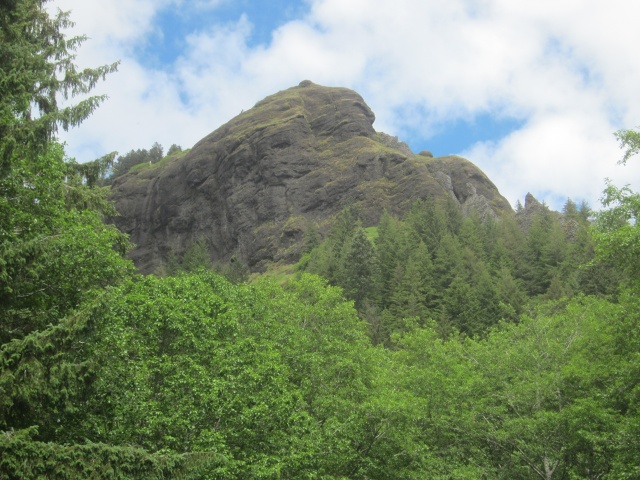 That is where we are going

Our destination is the very top of that peek.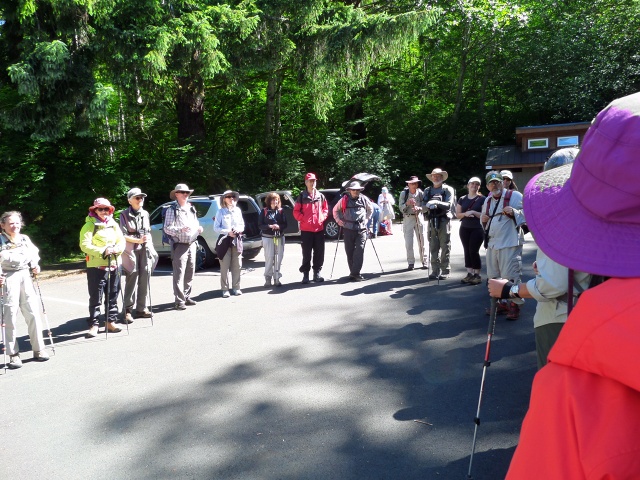 The group was large, more than 30.

Our able leader Michael assembled the group and gave instructions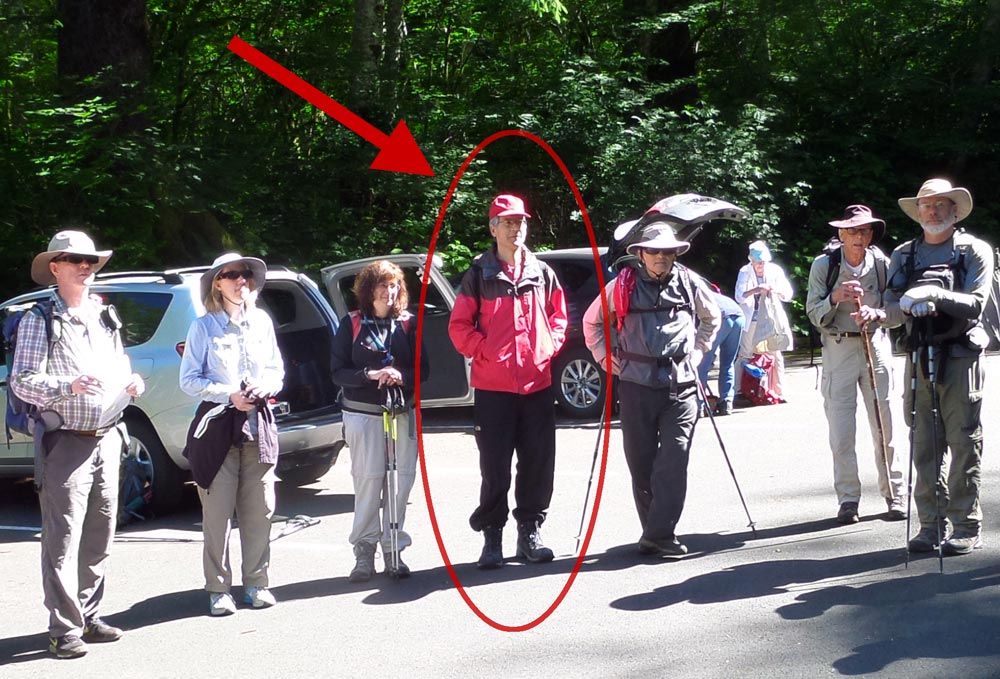 A young stranger wanted to join our group.

After an interrogation by our leader (and signing the release) he was allowed to hike with the group.

This young stranger not only made it to the top, but he offered encouragement to Joan so she also made it to the top.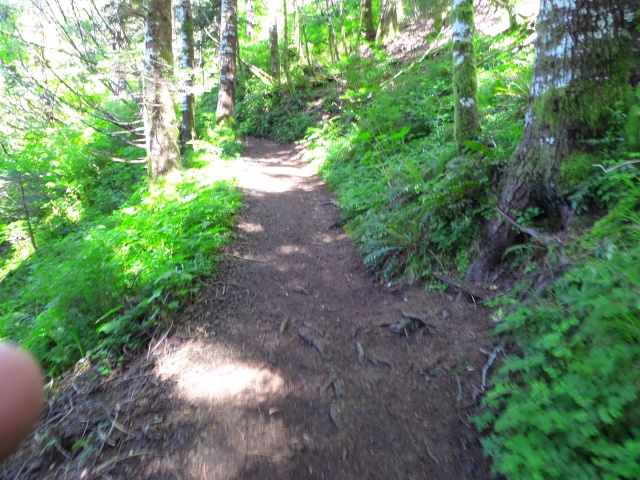 The trail up was easy to follow
There were no places one could get lost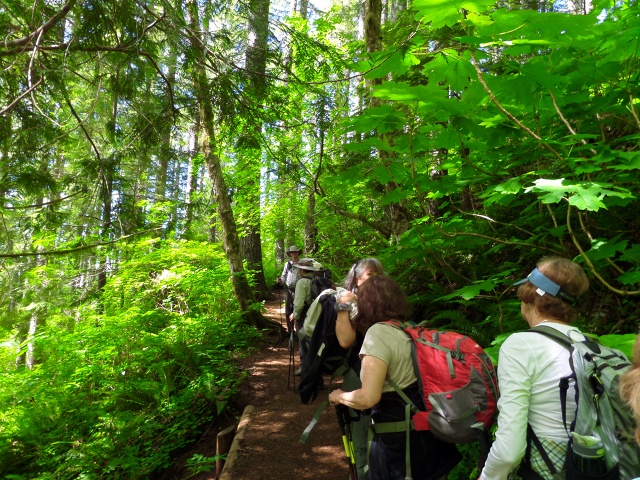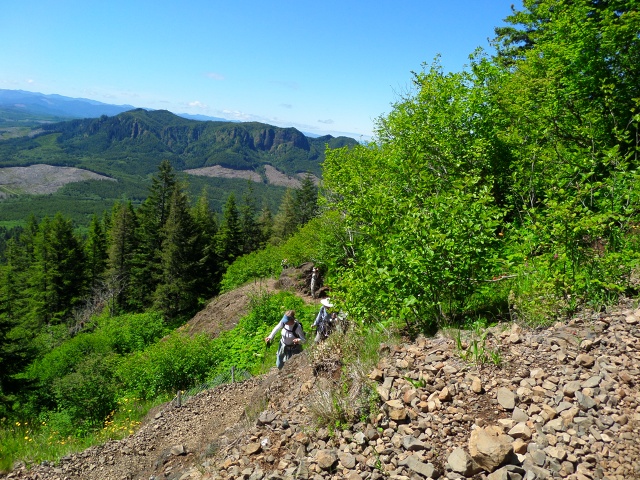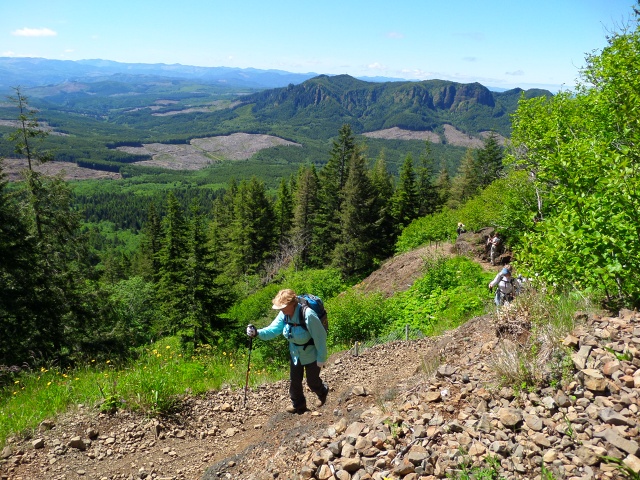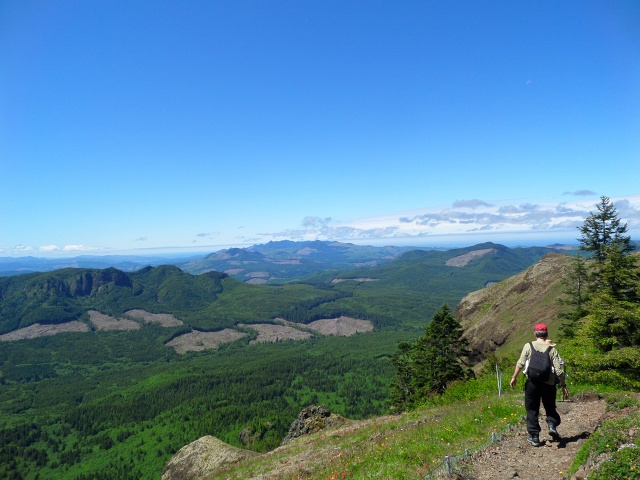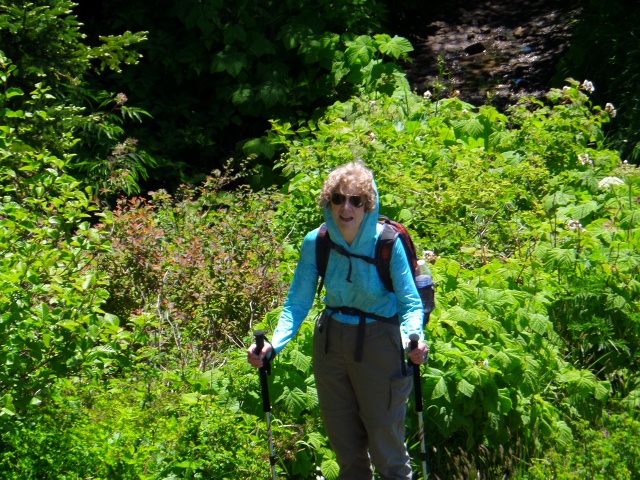 Here are a few pictures of people on the trail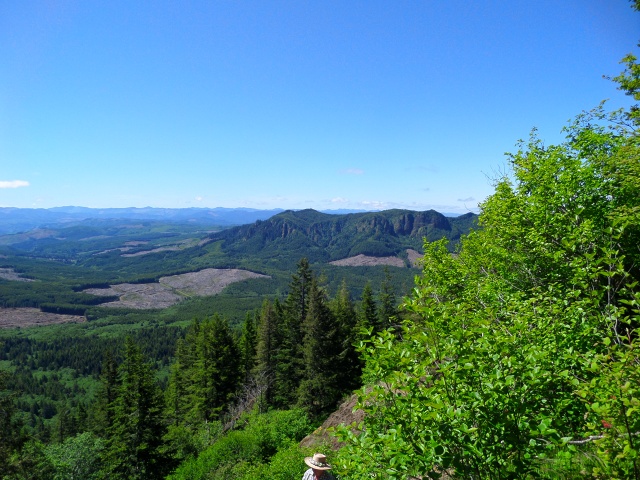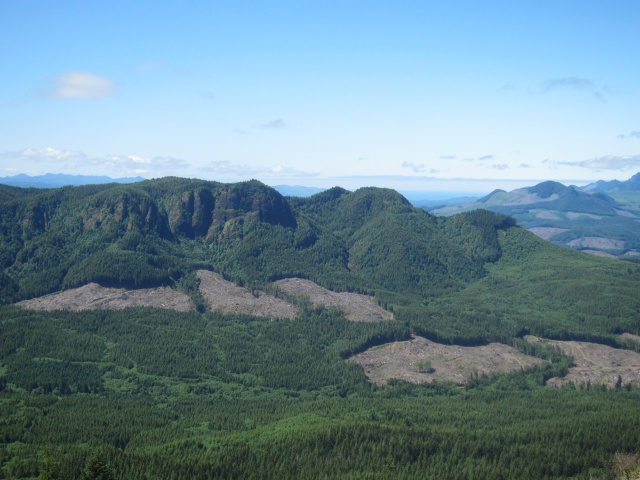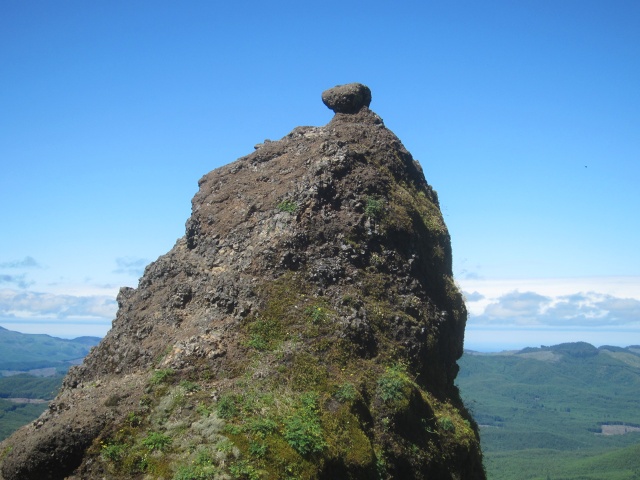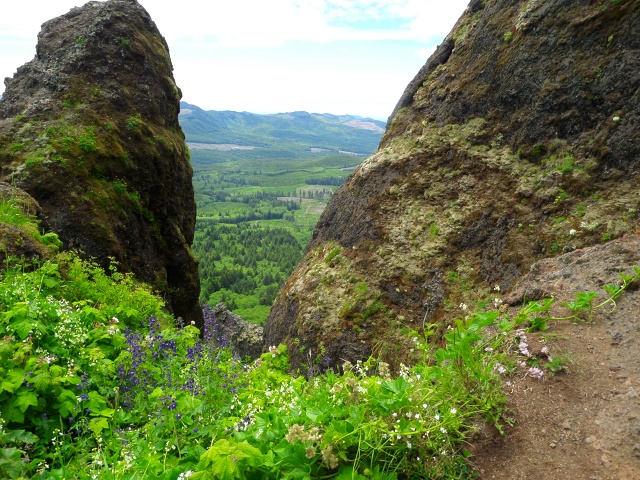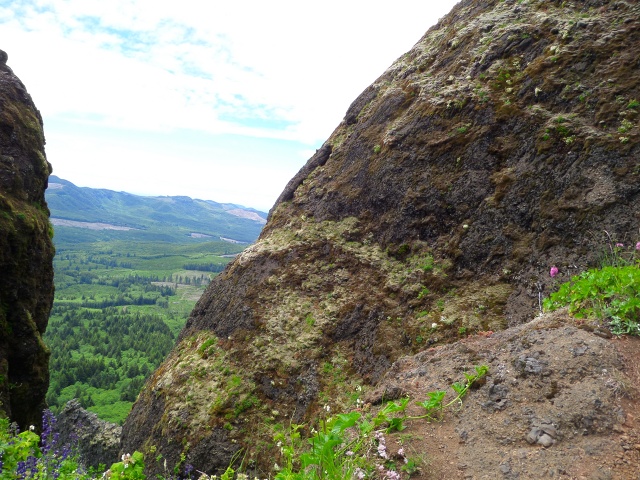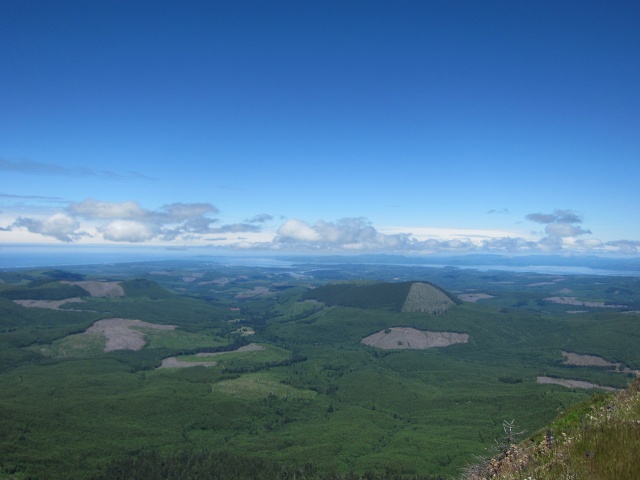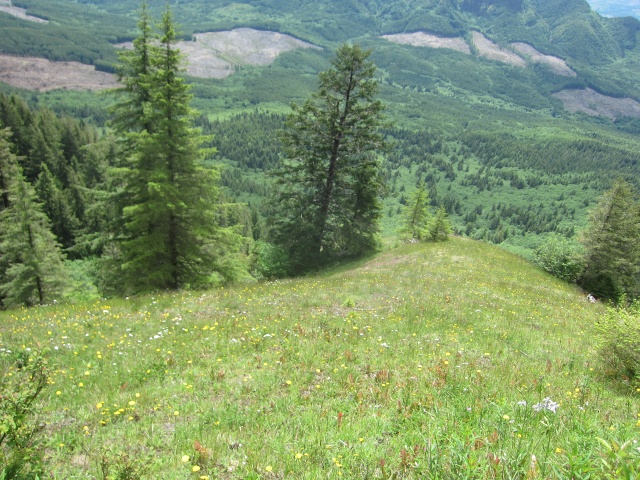 It was a clear day and the views were wonderful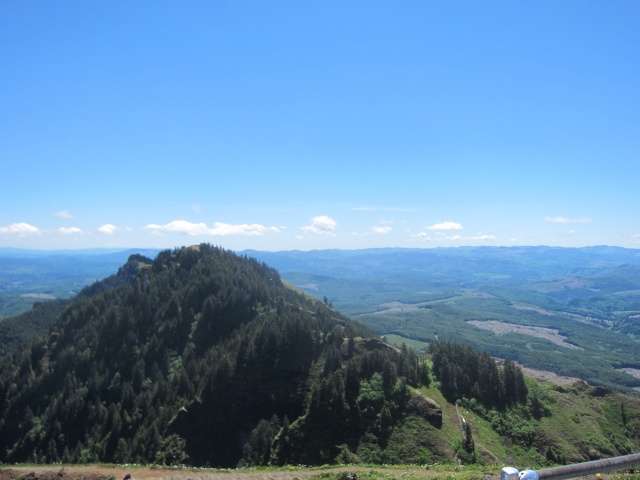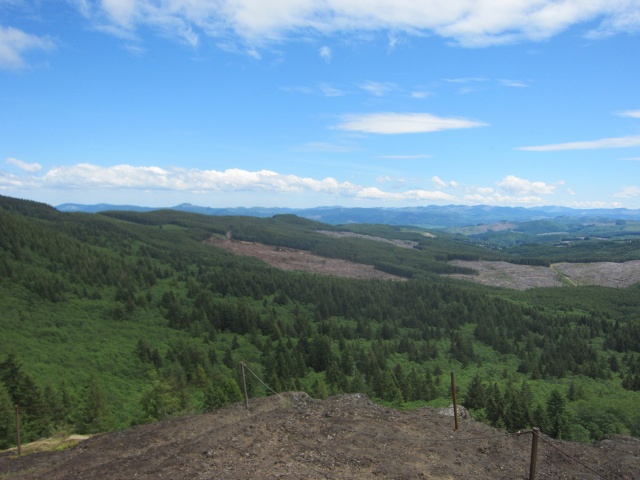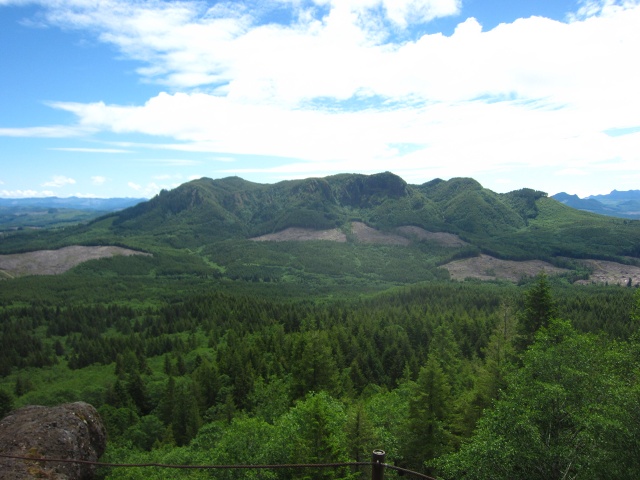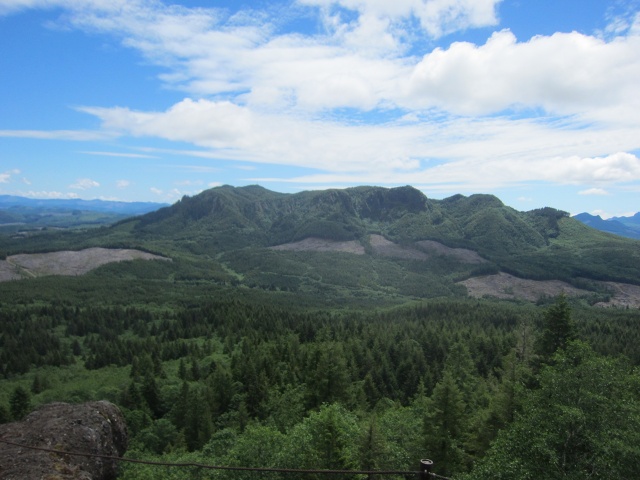 Finally at the top

The views were spectacular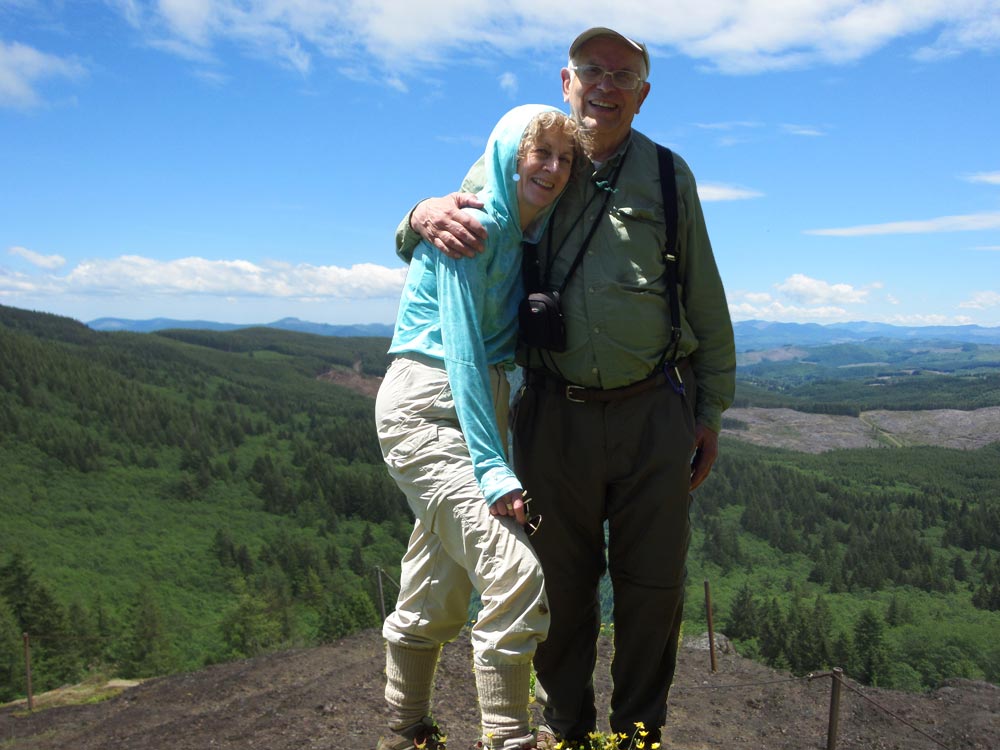 Joan made it to the top.
Elmer made it to the top with a little help from Photo shop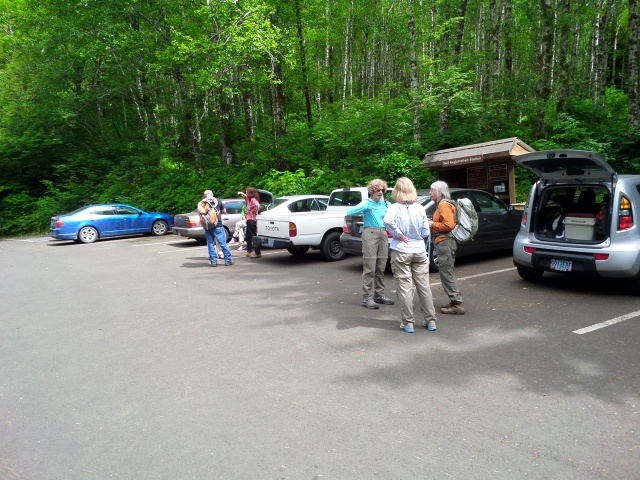 After the hike down, the group was happy to be back at the trailhead

There were lots and lots of flowers
Here are a few of them
My thanks to those who helped me identify these flowers. Without the help of my very knowledgeable friends, I would be hard pressed to identify anything beyond a daffodil. I thank them for so generously sharing there knowledge.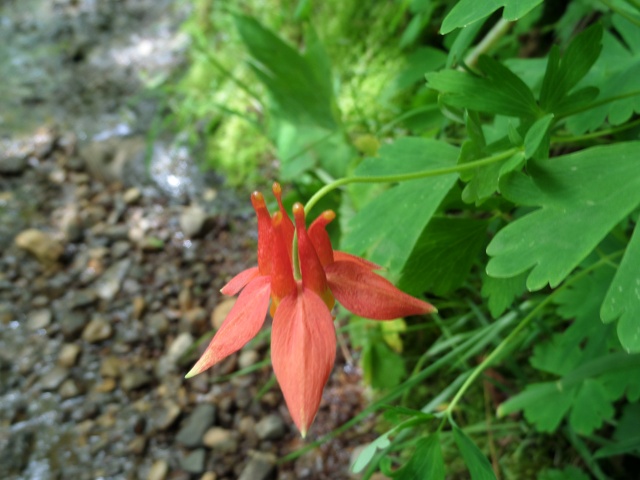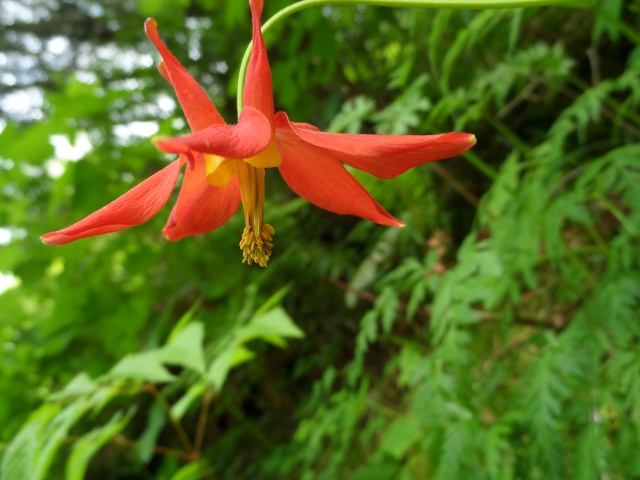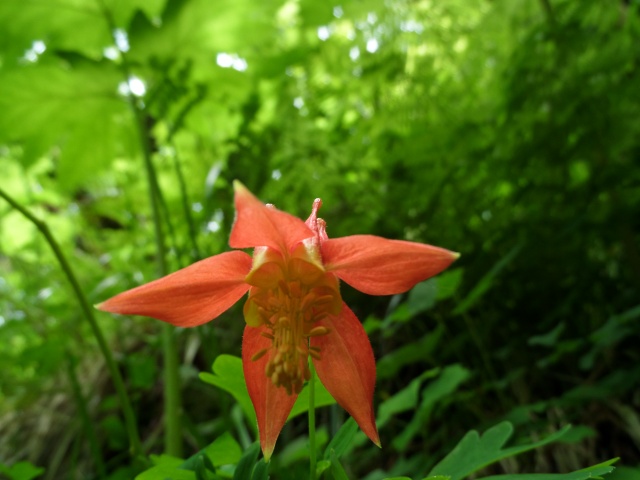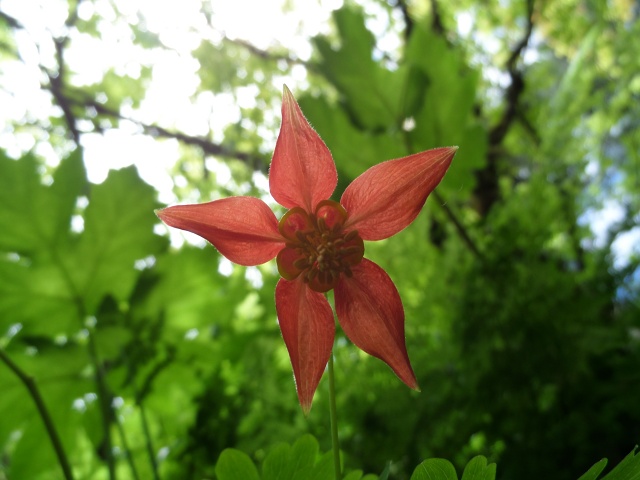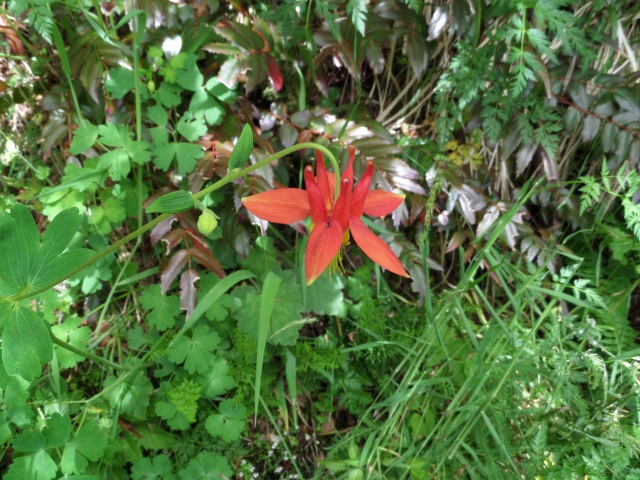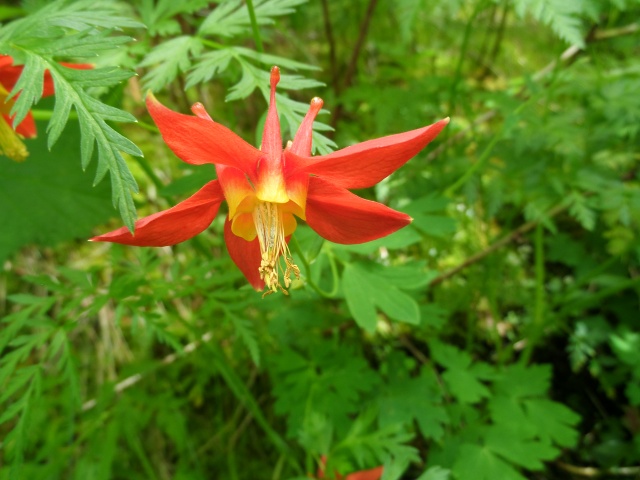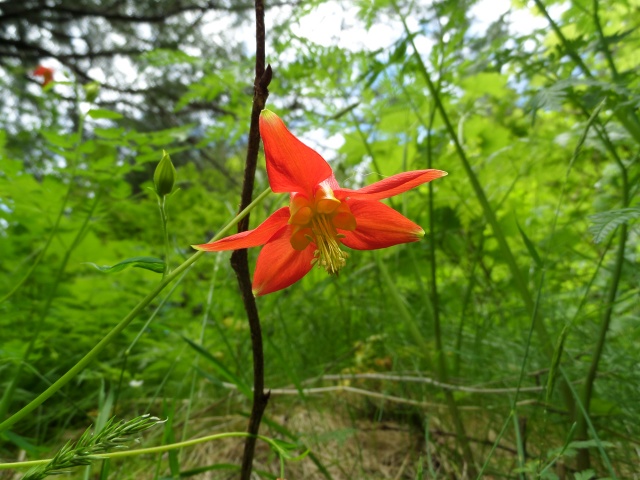 Columbine
Also called: crimson columbine, western columbine, or red columbine
(Aquilegia formosa)

This beautiful flower belongs to the Ranunculaceae family, that is, the Buttercup Family.

The name "columbine" comes from the Latin word "columba," that means dove. The reason is that an upside down columbine bloom is said to look like a circle of doves around a fountain.

As for the latin name Aquilegia Formosa:
The name Aquilegia is derived from the Latin word "aquila" which means eagle. It is said that the spurred petals resemble an eagles talons.

The species name formosa, comes from the latin word for beautiful.

Some Indian tribes used the Aquilegia formosa to make a perfume. Other tribes ate the nectar as a candy.
---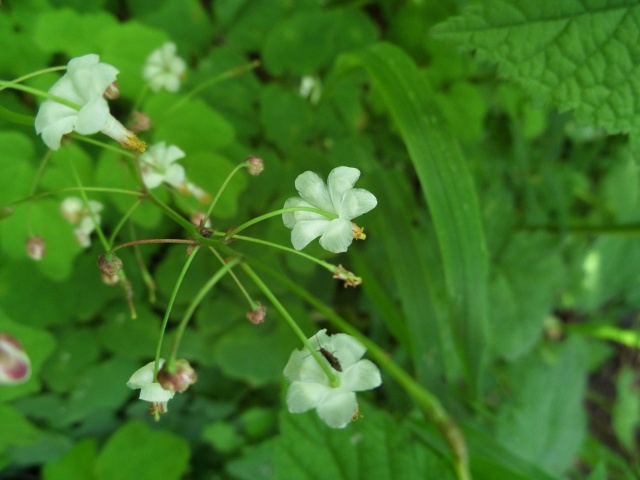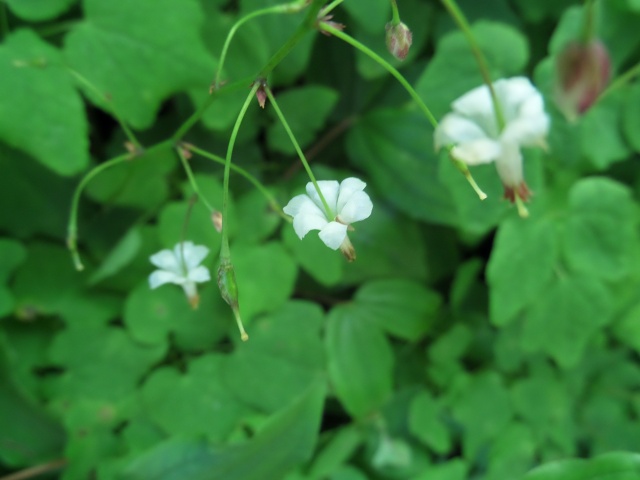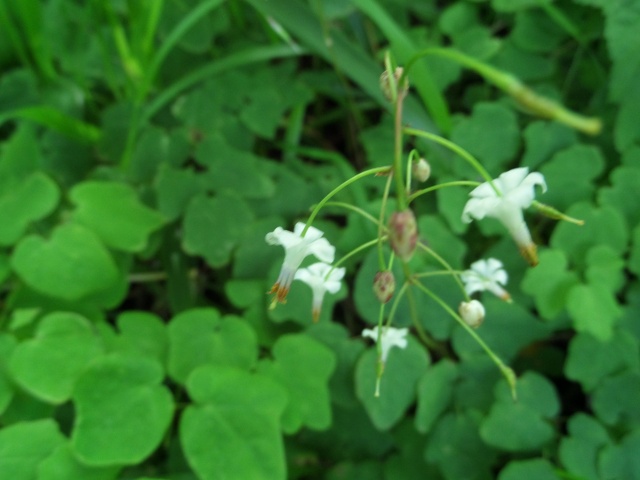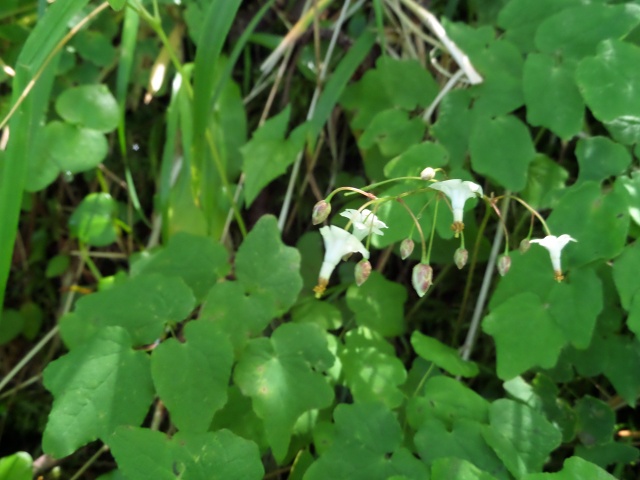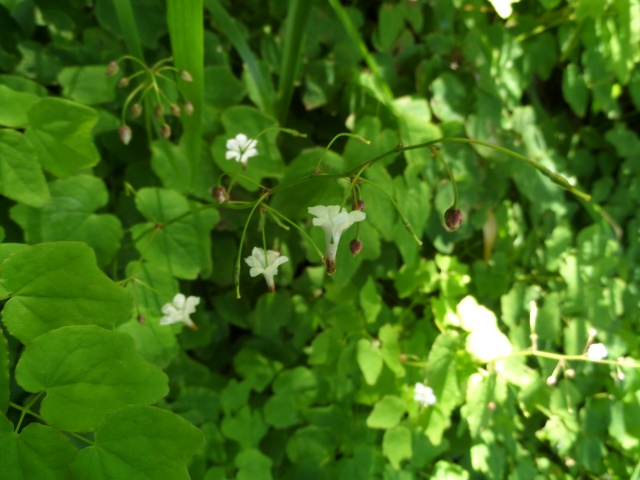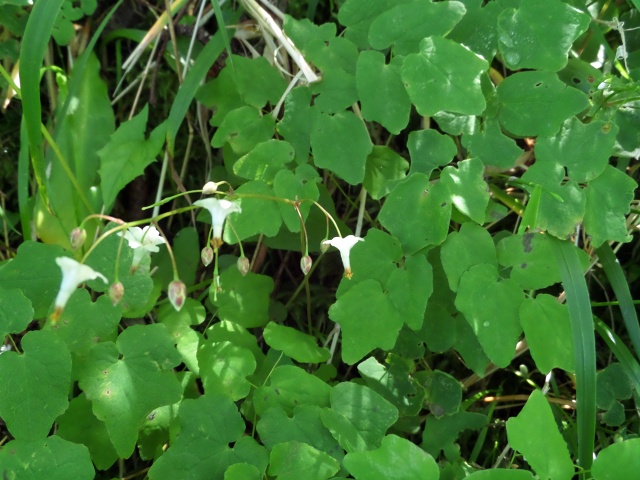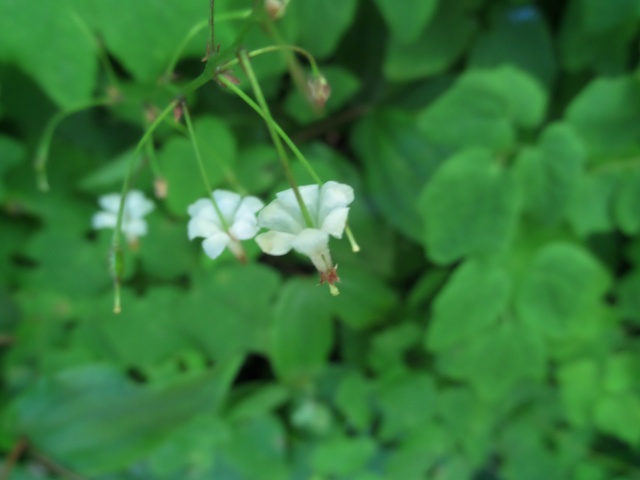 Inside-out Flower
( Vancouveria hexandra)

The genus name"Vancouveria" honors Captain George Vancouver. Captain Vancouver was the British Naval Officer and explorer who sailed with Captain Cook and after whom the Canadian and Washington cities of "Vancouver" are named.
---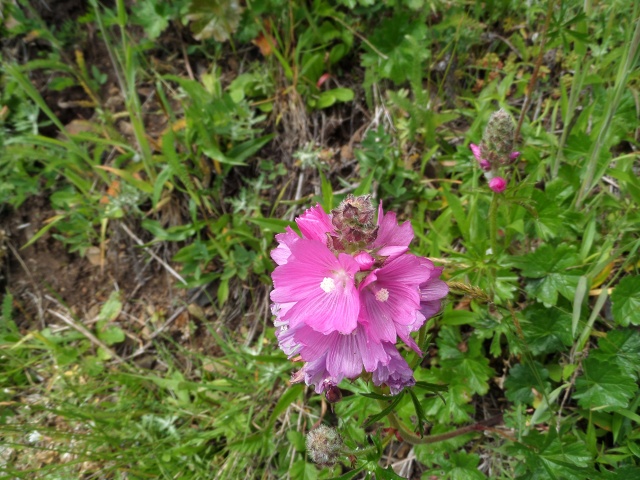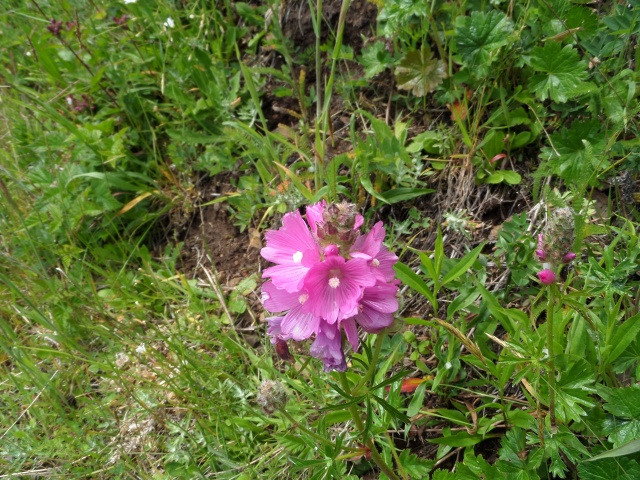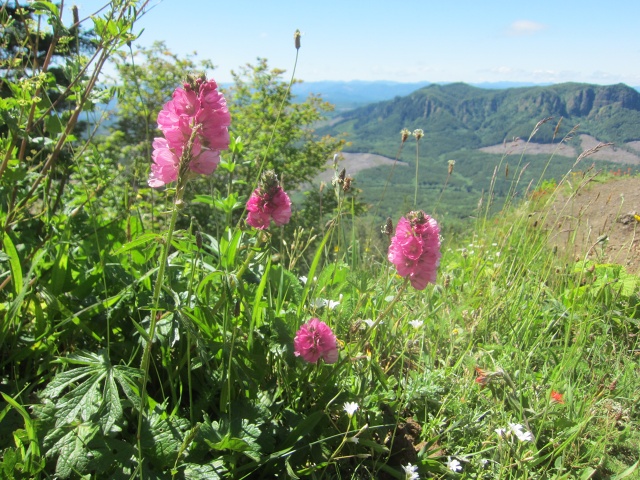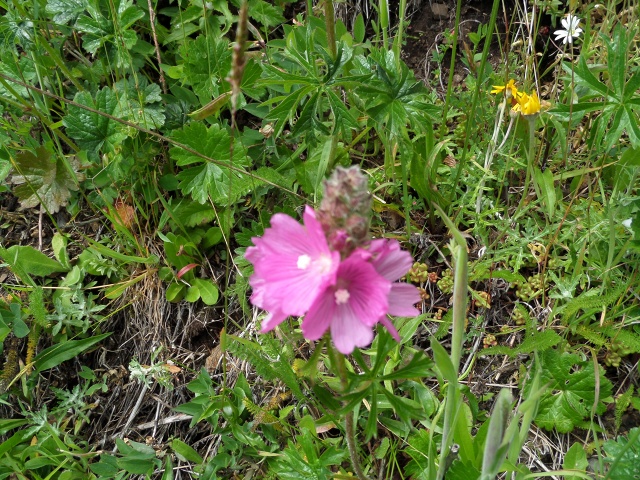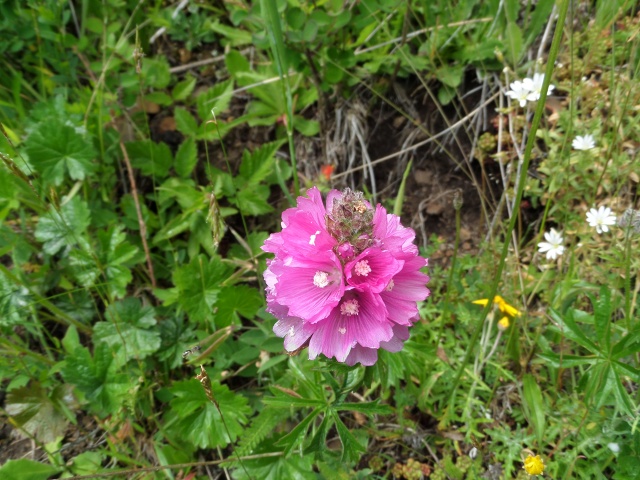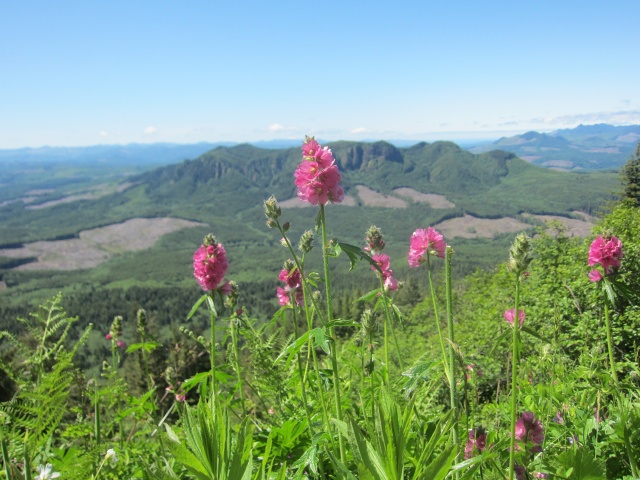 Checker mallow

Family: Malvaceae mallows, mauves
Genus: Sidalcea checkermallow, checkerbloom

There are many species of Malvaceae Sidalceae (checker-mallow)

This is probably either:
1) Sidalcea virgata Howell virgate checkerbloom
2) Sidalcea hendersonii

Paul Slichter's web site indicates that "To determine the varieties of Oregon checker-mallow, you will need to use a good hand lens and look at the type of hairs found on the stem, leaves and calyx."




---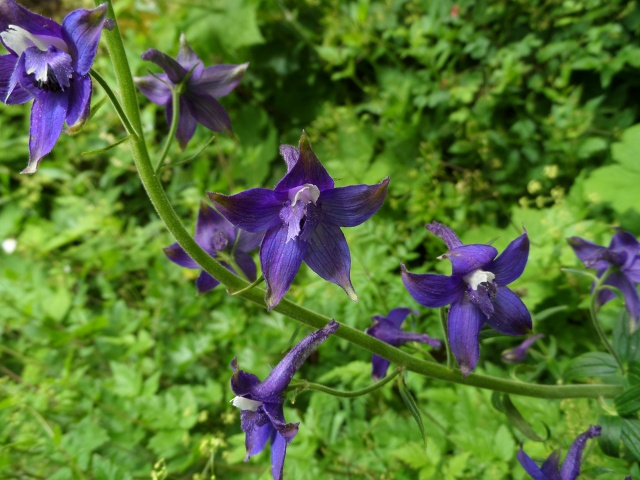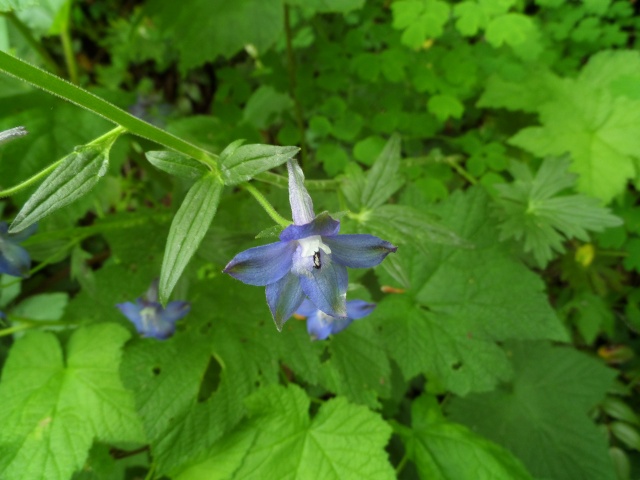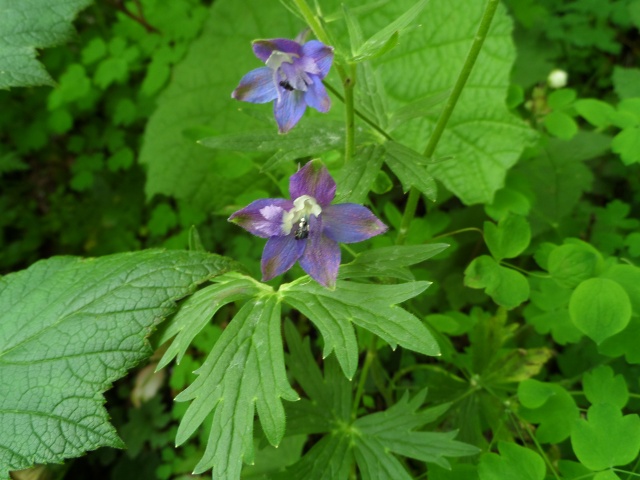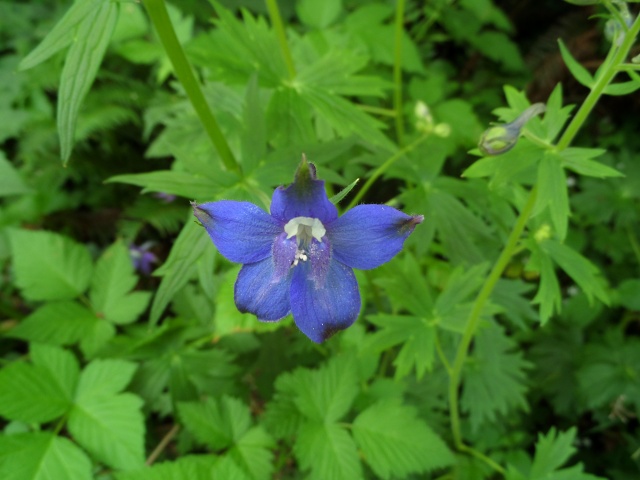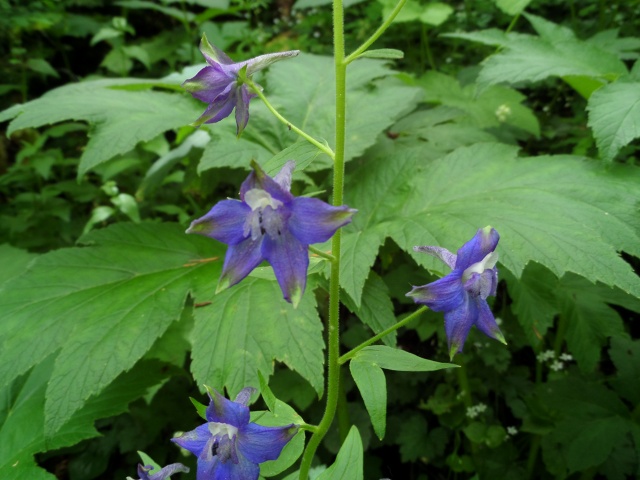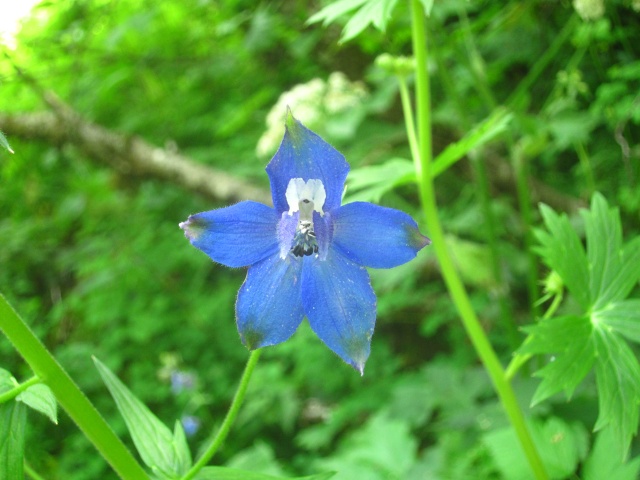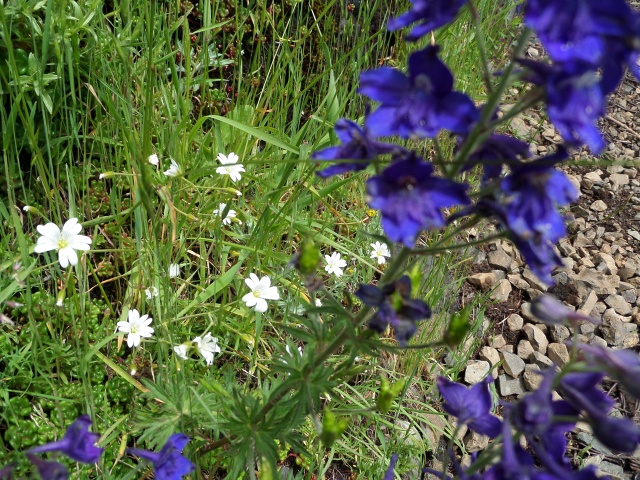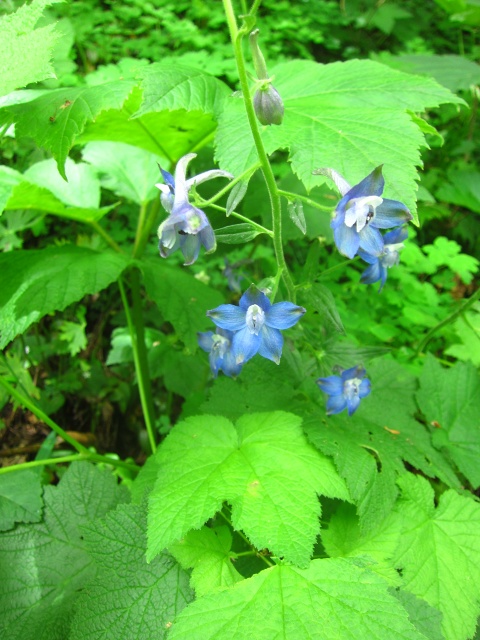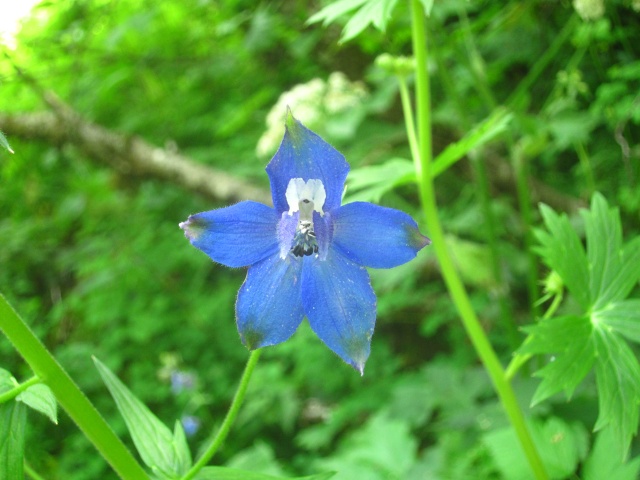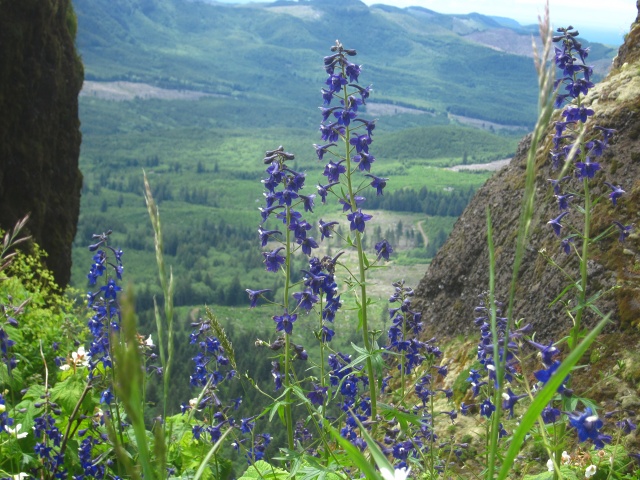 Delphinium
(also called Larkspur)

There were lots of these lovely flowers

Delphinium is a genus of about 300 species of perennial flowering plants in the family Ranunculaceae.

The following seven species can be found in the Columbia Gorge and in the Coast Range:

1) Burke's Larkspur, Meadow Larkspur, Twospike Larkspur, Two-spike Larkspur: Delphinium distichum

2) Olympic Larkspur, Olympic Mountain Larkspur, Rockslide Larkspur: Delphinium glareosum

3) Cliff Larkspur: Delphinium menziesii ssp. menziesii

4) Two-lobe Larkspur, Upland Larkspur: Delphinium nuttallianum

5) Thinpetal Larkspur, Thin-petal Larkspur, Upland Larkspur: Delphinium nuttallianum

6) Nuttall's Larkspur, Upland Larkspur: Delphinium nuttallii

7) Columbian Larkspur, Cow Poison, Cow-poison, Poison Larkspur: Delphinium trolliifolium

(from Paul Slichter's web site) Click Here for a description of each species
---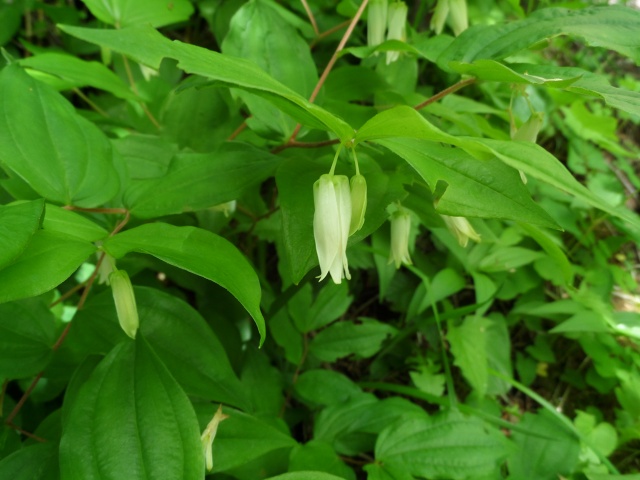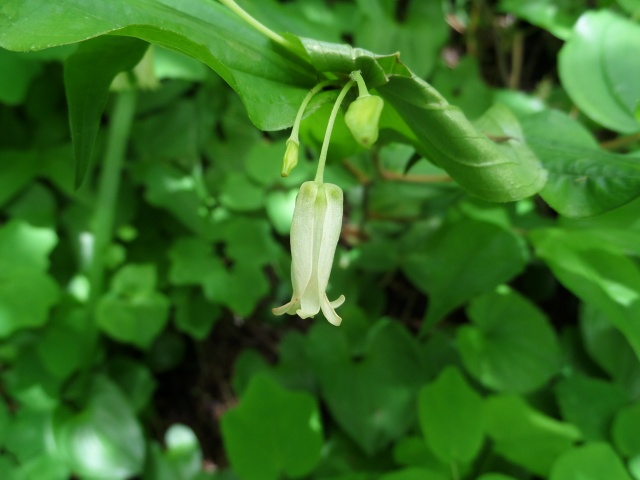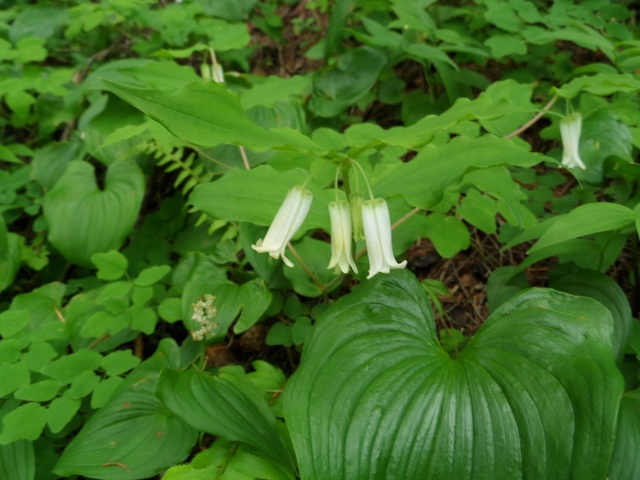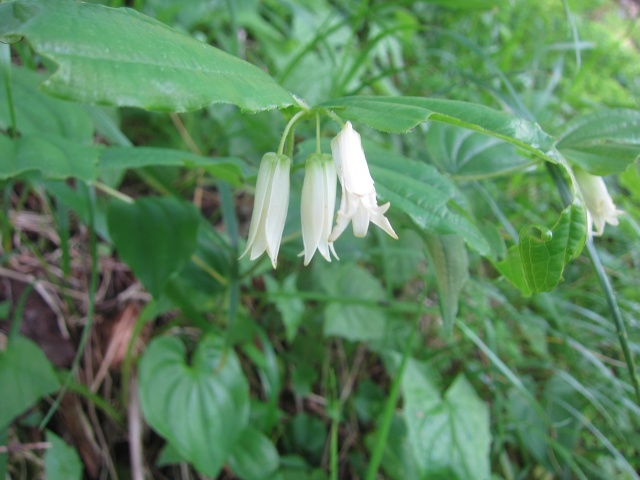 Fairy Lanterns
Also called: Largeflower Fairybells, Smith's Fairybells
(Prosartes smithii)

Fairy lanterns are similar in appearance to fairy bells, but the tips of the tepals of the latter plant flare outwards to give a bell shape.
(from Paul Slichter's website)
---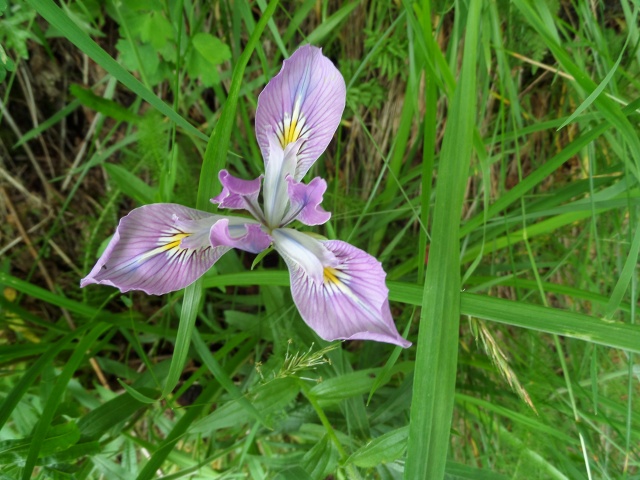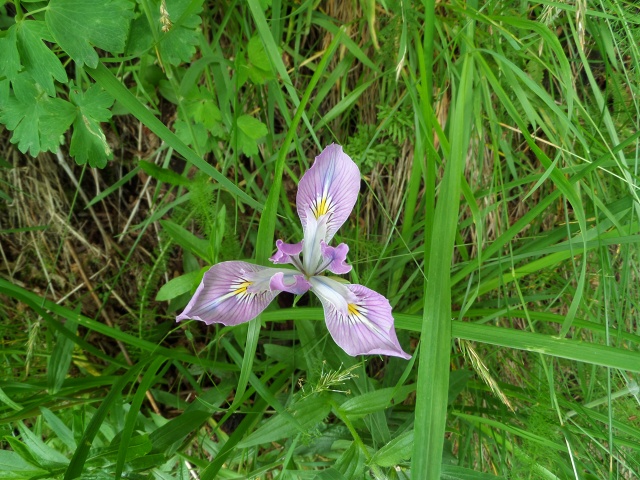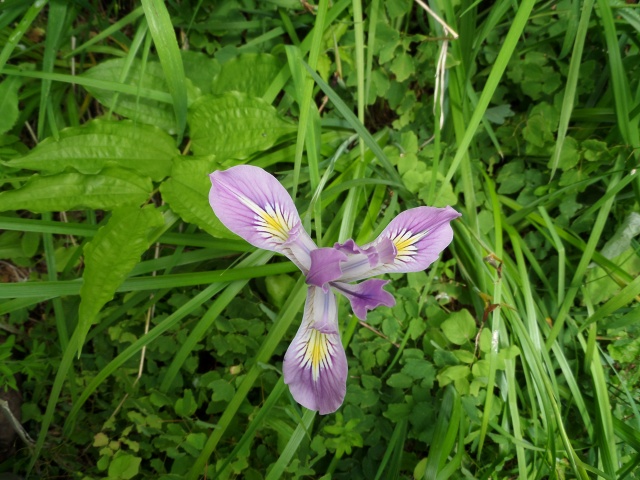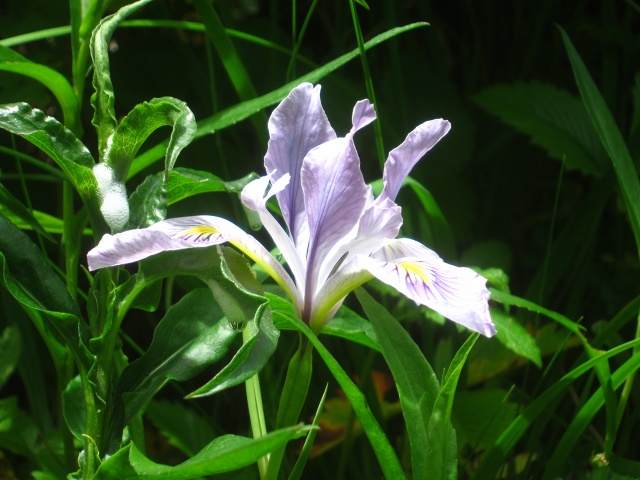 Wild Iris
Also called: Oregon Flag, Oregon Iris, Tough-leaved Iris
(Iris tenax var. tenax)
---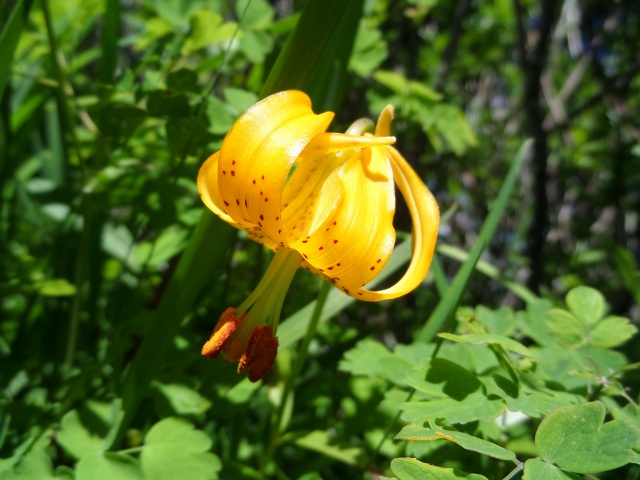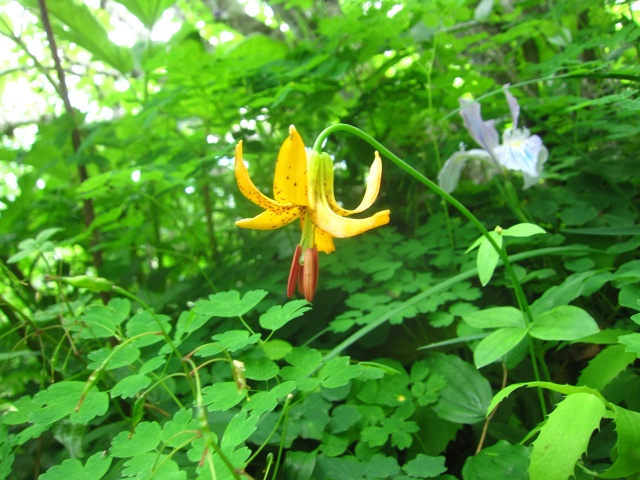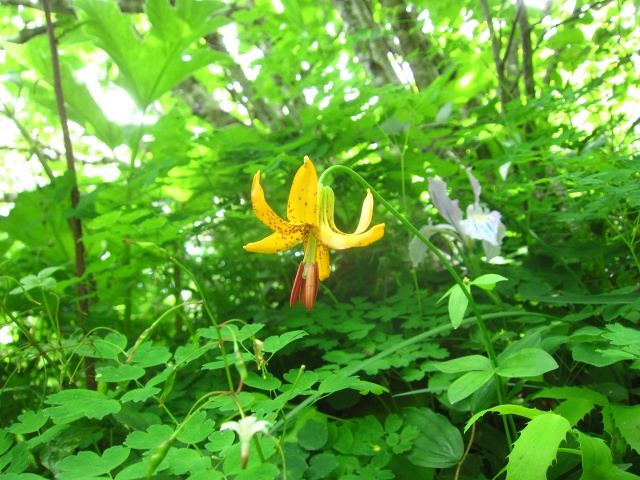 Tiger Lily
Also called: Columbia Lily, Columbian Lily, Oregon Lily
(Lilium columbianum)


---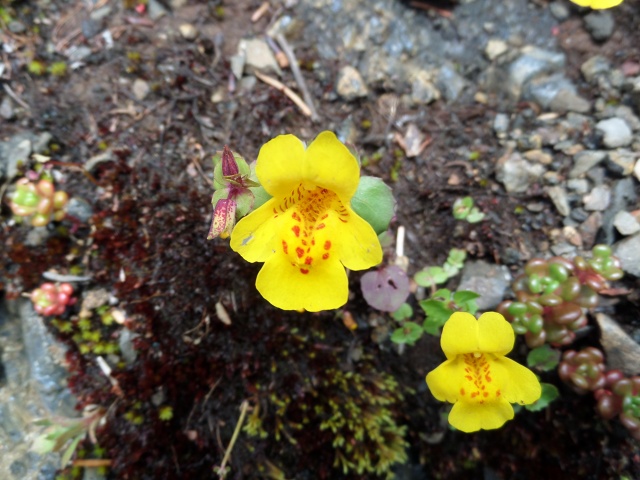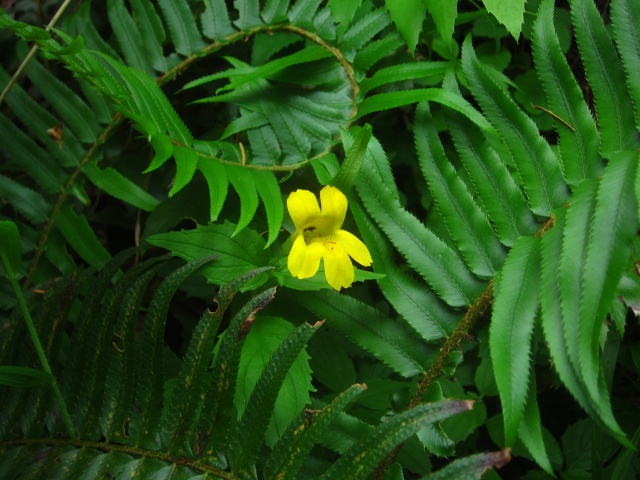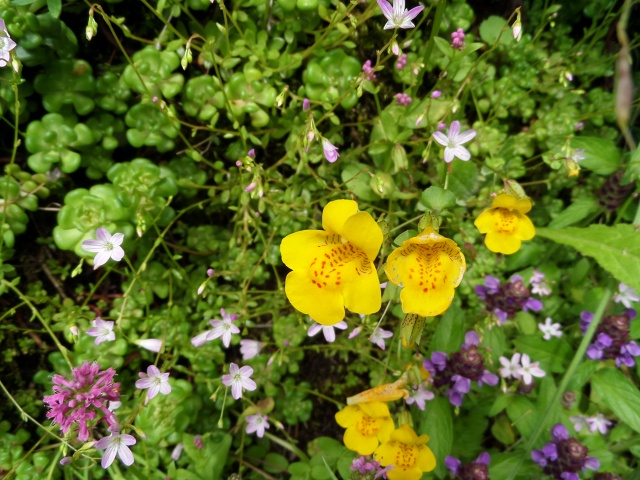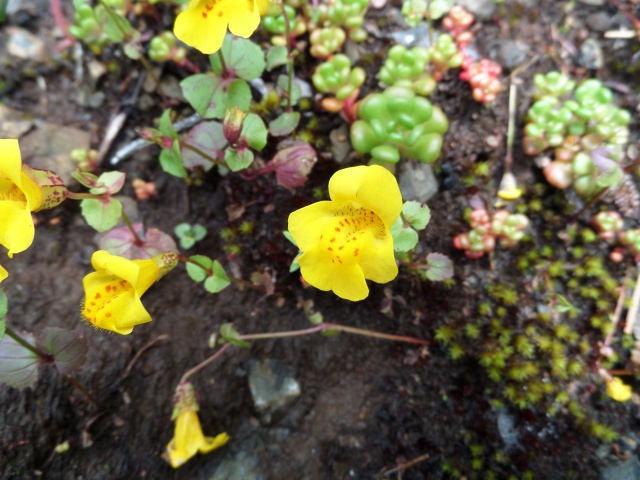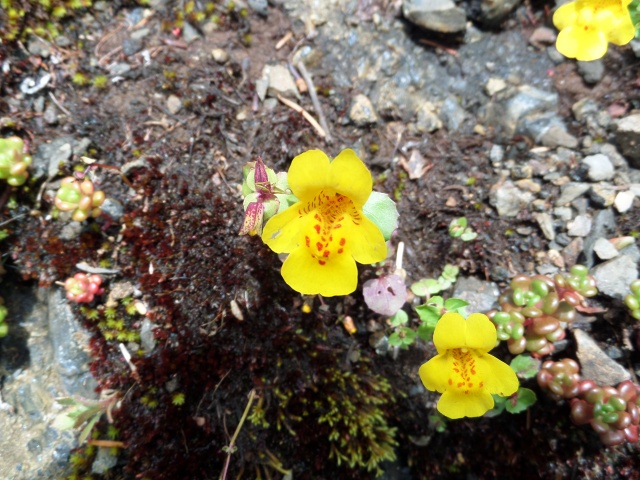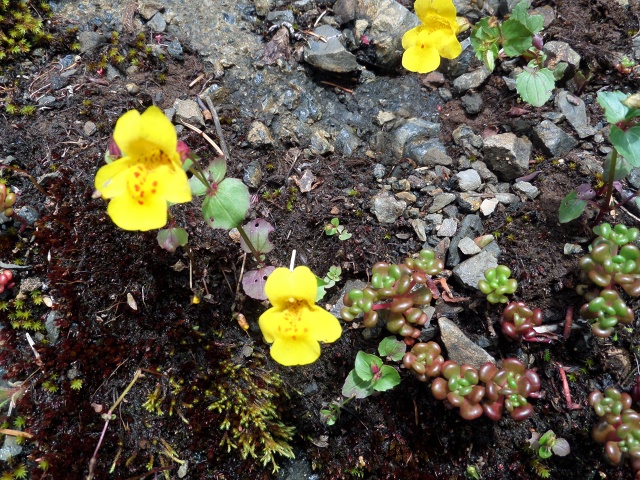 Monkey Flower
Genus: Mimulus (this genus includes monkey flowers and musk flowers)

Family: Figwort (scrophulariaceae)

This is probably:
Tooth-leaved monkeyflower (Mimulus dentatus)
or
Seep monkeyflower (Mimulus guttatus )
---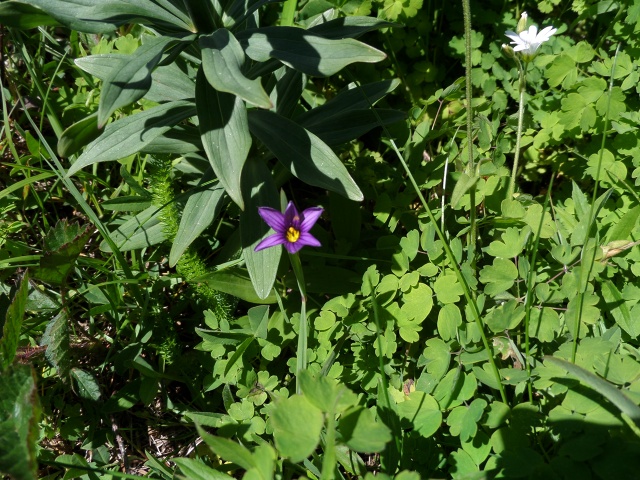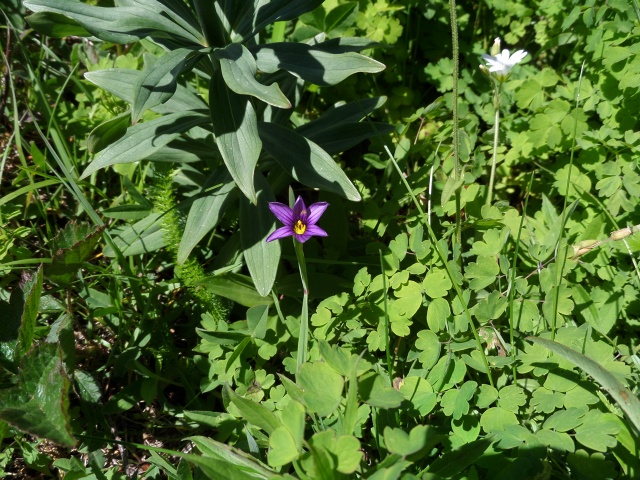 Western Pearl-Flower
Heterocodon rariflorum rareflower heterocodon
Synonym: Specularia rariflorum

This is an annual herb producing a very thin, erect stem to 30 centimeters in maximum height. It branches few times if at all and is dark green to reddish in color. Leaves are occasional along the stem and are heart-shaped to rounded with a toothed edge. Also at occasions along the stem are the flowers, which emerge from a base of toothed or spiny leaflike sepals a few millimeters long. The corolla of the flower is a cylindrical tube 3 to 5 centimeters long, blue or lavender with darker veining and a lighter throat, and spreading into triangular lobes at the mouth. (from GBIF.org)

Click here for info on this flower from Slichter web site

There were lots of other wild flowers seen during this hike. But his is enough for me today.

Do offer some comments: Message will go to Joan and Elmer
Type your message in the box below and include your name
If you care to see more images
Click on a thumbnail below to enlarge the image
f_columbine_763

f_columbine_764

f_columbine_765

f_columbine_766

f_columbine_767

f_columbine_768

f_columbine_769

f_columbine_770

f_columbine_771

f_Columbine_793

f_Columbine_794

f_Columbine_795

f_Columbine_796

f_Columbine_797

f_Columbine_798

f_Columbine_799

f_Columbine_805

f_Columbine_806

f_Columbine_807

f_Columbine_808

f_Columbine_809

f_Columbine_810

f_Columbine_811

f_Columbine_812

f_Columbine_813

f_Columbine_814

f_Columbine_815

f_Columbine_824

f_Columbine_825

f_Columbine_D479

f_Columbine_D480

f_Columbine_D481

f_Delp0hinium _835

f_Delp0hinium _836

f_Delp0hinium _837

f_Delp0hinium _838

f_Delp0hinium _839

f_Delphinium _846

f_Delphinium _847

f_Delphinium _848

f_Delphinium _849

f_Delphinium _850

f_Delphinium _851

f_Delphinium _852

f_Delphinium _853

f_Delphinium _854

f_Delphinium _855

f_Delphinium _856

f_Delphinium _857

f_Delphinium _858

f_Delphinium _859

f_Delphinium _860

f_Delphinium _861

f_Delphinium _862

f_Delphinium _863

f_Delphinium _864

f_Delphinium _865

f_Delphinium _866

f_Delphinium _867

f_Delphinium _868

f_Delphinium _869

f_Delphinium _875

f_Delphinium _876

f_Delphinium _877

f_Delphinium _878

f_Delphinium _879

f_Delphinium _880

f_Delphinium _881

f_Delphinium _882

f_Delphinium_906

f_Delphinium_907

f_Delphinium_908

f_Delphinium_909

f_Delphinium_D460

f_Delphinium_D461

f_Delphinium_D482

f_Delphinium_D483

f_Delphinium_D484

f_Delphinium_D485

f_Delphinium_D486

f_Delphinium_D509

f_Delphinium_D510

f_Delphinium_D511

f_Delphinium_D512

f_fairly_laterns_758

f_fairly_laterns_759

f_fairly_laterns_760

f_fairly_laterns_761

f_fairly_laterns_762

f_fairy lantern_910

f_fairy lantern_911

f_fairy_latern_D471

f_fairy_latern_D472

f_fairy_latern_D473

f_Fringe_cups _872

f_Fringe_cups _873

f_Fringe_cups _874

f_fringecups_713

f_fringecups_714

f_fringecups_715

f_fringecups_716

f_fringecups_717

f_fringecups_718

f_fringecups_719

f_fringecups_720

f_fringecups_721

f_fringecups_722

f_fringecups_723

f_inside_out_697

f_inside_out_698

f_inside_out_699

f_inside_out_700

f_inside_out_701

f_inside_out_702

f_inside_out_703

f_inside_out_704

f_inside_out_705

f_inside_out_706

f_inside_out_707

f_inside_out_708

f_inside_out_709

f_inside_out_710

f_inside_out_711

f_inside_out_712

f_Iris_897

f_Iris_898

f_Iris_903

f_Iris_904

f_Iris_905

f_Iris_912

f_Iris_913

f_Iris_D491

f_Iris_D492

f_Iris_D493

f_Iris_D494

f_Iris_D505

f_Iris_D506

f_Miners Lettuce_D487

f_Miners Lettuce_D488

f_Miners Lettuce_D489

f_Miners_lettuce_686

f_Miners_lettuce_687

f_Miners_lettuce_688

f_Miners_lettuce_689

f_Miners_lettuce_690

f_Miners_lettuce_691

f_Miners_lettuce_692

f_Miners_lettuce_693

f_Miners_lettuce_694

f_Miners_lettuce_695

f_Miners_lettuce_696

f_Monkey_D478

f_Monkey_D516

f_Monkey_D517

f_Monkey_D518

f_Monkey_D519

f_Monkey_flower _840

f_Monkey_flower _841

f_Monkey_flower _842

f_Monkey_flower _843

f_Monkey_flower _844

f_Monkey_flower _845

f_Monkey_flower _870

f_Monkey_flower _871

f_monkey_flower_772

f_monkey_flower_773

f_monkey_flower_774

f_monkey_flower_775

f_monkey_flower_776

f_monkey_flower_777

f_monkey_flower_778

f_monkey_flower_780

f_monkey_flower_781

f_monkey_flower_782

f_monkey_flower_783

f_monkey_flower_784

f_monkey_flower_785

f_monkey_flower_786

f_oregon_iris_787

f_oregon_iris_788

f_oregon_iris_789

f_oregon_iris_790

f_oregon_iris_791

f_oregon_iris_792

f_Paint_brush_729

f_Paint_brush_730

f_Paint_brush_731

f_Paint_brush_732

f_paint_brush_755

f_paint_brush_756

f_paint_brush_800

f_paint_brush_801

f_paint_brush_802

f_paint_brush_803

f_paint_brush_804

f_Paint_brush_D474

f_Rosey_D514

f_Rosey_D515

f_Rosy Plectritis _826

f_Rosy Plectritis _827

f_Rosy Plectritis _828

f_Rosy Plectritis _829

f_Rosy Plectritis _830

f_Rosy Plectritis _831

f_Rosy Plectritis _832

f_Rosy Plectritis _833

f_Rosy Plectritis _834

f_Thimnble_berry_D521

f_Thimnble_berry_D522

f_Thimnble_berry_D523

f_Thimnble_berry_D524

f_Thimnble_berry_D525

f_Thimnble_berry_D526

f_Thimnble_berry_D527

f_Thimnble_berry_D528

f_Tiger Lilly_734

f_Tiger Lilly_735

f_Tiger Lilly_736

f_Tiger Lilly_737

f_Tiger_Lily_D504

f_Tiger_Lily_D507

f_Tiger_Lily_D508

f_U1_724

f_u2_743

f_u2_744

f_u2_745

f_u2_746

f_u2_747

f_U4_816

f_U4_817

f_U4_818

f_U4_819

f_U4_820

f_U4_821

f_U4_822

f_U4_823

f_UA_725

f_UA_726

f_UD_883

f_UD_884

f_UD_885

f_UD_886

f_UD_887

f_UD_888

f_UD_889

f_UD_890

f_UD_891

f_UD_892

f_UD_D453

f_UD_D454

f_UD_D455

f_UD_D456

f_UD_D457

f_UD_D458

f_UD_D459

f_UD_D496

f_UD_D497

f_UD_D498

f_UD_D499

f_UD_D500

f_UD_D501

f_UD_D502

f_UD_D503

f_UE_893

f_UE_894

f_UE_895

f_UE_896

f_Uy1_D490

f_Uy4_D495

f_Uy5_D513

f_Uy6_D520

f_Uy_D476

f_Uy_D477

f_Wind_flower_914

f_Wind_flower_915

f_Wind_flower_916

f_Wind_flower_917

f_Wind_flower_918

f_Wind_flower_919

f_Wind_flower_920

f_Wind_flower_921

f_Wind_flower_922

group_arrival_669

group_leaving_927

group_on_trail_671

group_on_trail_672

group_on_trail_673

group_view _675

p+Joan_752

p-unknown-debra_674

p_679

p_680

p_683

P_Al_670

p_Joan_751

p_view_684

p_view_685

sign_923

sign_924

sign_925

sign_D535

sign_D536

trail_681

trail_682

View _676

View _677

View _678

View_733

View_740

View_741

View_899

View_900

View_901

View_902

View_D450

View_D451

View_D452

View_D462

View_D463

View_D464

View_D465

View_D466

View_D467

View_D468

View_D469

View_D470

View_D475

View_destination_667

View_destination_668

View_destination_D537

View_destination_D538

View_destination_D539

View_destination_D540

View_destination_D541

View_destination_D542

View_from_top_D529

View_from_top_D530

View_from_top_D531

View_from_top_D532

View_from_top_D533

View_from_top_D534